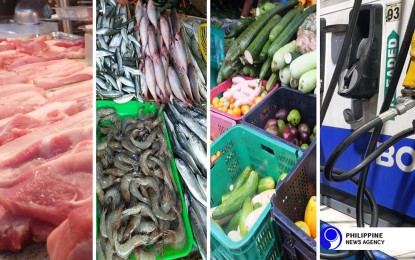 MANILA – Further acceleration of the inflation rate, which rose to 5.4 percent last May, the highest since December 2018, remains within forecast, Bangko Sentral ng Pilipinas (BSP) Governor Benjamin Diokno said.
The BSP projected the May 2022 inflation to stay between 5 to 5.8 percent.
"The inflation outturn is consistent with the BSP's assessment of continued uptick in inflation as supply-side pressures persist," Diokno said in a Viber message to journalists on Tuesday.
The rate of price increases in the first five months this year averaged at 4.1 percent, already above the government's 2 to 4-percent target range until 2014.
Inflation rate in May 2021 was lower at 4.1 percent while the April 2022 level was at 4.9 percent, the first time the rate surpassed the government's 2 to 4-percent target band until 2023.
Diokno said they project above-target average inflation rate this year but the 2023 level is forecast to decelerate and stay near the upper-end of the target.
"The inflation path continues to be driven primarily by supply-side factors amid volatile global commodity prices. Supply chain disruptions could also contribute to inflationary pressures, and thus warrant closer monitoring to enable timely intervention to arrest emergence of further second-round effects," he said.
Diokno said latest readings on the domestic output indicate continued expansion of the economy following the easing of movement restrictions.
"However, heightened geopolitical tensions, a resurgence in Covid-19 (coronavirus disease 2019) infections in some countries, along with faster-than-expected monetary policy normalization in advanced economies, have clouded the outlook for global economic growth," he added.
Because of these developments, Diokno said the balance of risks on the inflation outlook "now leans towards the upside for both 2022 and 2023."
He said upside inflation pressures come from potential impact of higher oil prices, including on transport fares, and the supply issues on fish and pork, while downside pressures are mainly due to weaker-than-expected global economic recovery.
Diokno said they will continue to assess emerging price developments as well as the growth and inflation outlook ahead as they prepare for the fourth rate setting meeting of the policy-making Monetary Board (MB) on June 23.
"The pace and timing of any further monetary policy actions by the BSP shall be guided by data outcomes, in keeping with the BSP's price and financial stability objectives" he added.
The Board, during its rate setting meeting last May 19, hiked the central bank's key rates by 25 basis points, the first since December 2018, after monetary authorities noted the continued recovery of the domestic economy and the accelerating inflation rate.
This brought the BSP's overnight reverse repurchase (RRP) rate to 2.25 percent from the record-low of 2 percent, following the total of 200 basis points reduction in 2020 as part of the central bank's pandemic-related measures. (PNA)