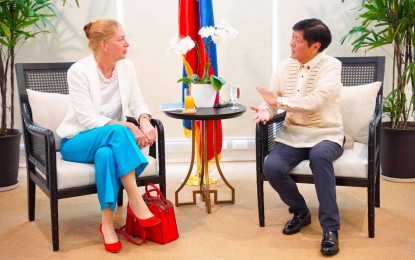 MANILA – Food security, climate change, and renewable energy were among the topics discussed by President-elect Ferdinand "Bongbong" Marcos with ambassadors from Spain, Morocco, and Germany during separate meetings on Tuesday morning.
Jorge Moragas, Ambassador of Spain to the Philippines; Ambassador Mohammed Rida El Fassi of Morocco; and German Ambassador Anke Reiffenstuel were received by Marcos separately during a series of meetings at the BBM headquarters in Mandaluyong City.
In a press briefing after the private meeting with Marcos, Reiffenstuel said apart from enhancing cooperation between their two countries, they also discussed global challenges including food security and climate change.
"We exchanged (views) about the ongoing bilateral cooperation and the cooperation in the international frame in the multilateral formats, and discussed potentials for furthering cooperation not only on mutual interests but also to address global challenges like climate change," the ambassador said.
The envoy added that she informed the incoming president about the ongoing programs of Germany to help the Philippines in addressing climate change including their Euro25 million donation for climate change-related projects.
They likewise discussed the priority project of Marcos regarding food security.
"I informed him about the upcoming international ministerial conference on global food security, this is also against the background of the impact of the Russian war against Ukraine with regards to the challenges on global food security," she noted.
Reiffenstuel also disclosed that they also tackled the safeguarding of rule of law and human rights.
"I also underlined the importance Germany attaches to the rule of law and safeguarding human rights, and of our continued commitment to the same," she said.
"In this context that I also mentioned, the (continuing) German support, contribution and funding of the United Nations joint program on human rights here in the Philippines," she added.
Reiffenstuel said they also focused their discussion on renewable energy which is also among Marcos' campaign promises to provide lower power rates to the people.
"Renewable energies of course are of great importance to us, to Germany, and we exchanged about the experiences and the commitment and the distributions and the shares of renewable energies in our two countries' power protections," she added.
The ambassador noted that Marcos illustrated his early commitment to renewable energy by mentioning the wind farm in Ilocos Norte, and they agreed that there is a need to continue to deepen the discussions since this has been an area of mutual interest.
Last Monday, Marcos also met separately with ambassadors from Italy and different Asean countries during which they discussed expanded cooperation between the Philippines and their respective countries.
The ambassadors relayed congratulatory messages of their heads of state on his victory and affirmed their interest in improving bilateral and diplomatic relations with the Philippines. (PR)