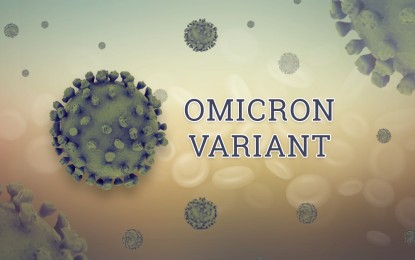 MANILA – The Department of Health (DOH) has detected three new cases of Omicron subvariant BA.5 in its latest sequencing run.
In an online media forum Tuesday, DOH Undersecretary Maria Rosario Vergeire said two of the cases are from Region 4-A (Calabarzon) while the address of the other case is still being verified.
The case with the still unverified address is fully vaccinated while one of the two cases from Calabarzon is unvaccinated.
The DOH is still verifying the vaccination status of the other case from Calabarzon together with their exposures and travel histories.
"Symptoms manifested by the individuals are still being verified. However, the three individuals are now tagged as recovered," Vergeire said.
The Omicron variant remains the most common lineage detected in the country.
As of June 6, out of the total 190 samples sequenced, 114 or 60 percent were positive for the Omicron variant, 14 or 7.4 percent are positive for the Delta variant, one or 0.5 percent was positive for other lineages and 61 or 32.1 percent have no assigned lineage.
Among the 114 new Omicron cases, emerging Omicron sublineages - BA.2.12.1 with seven cases and three BA.5 cases - were detected.
Vergeire noted that 103 among the Omicron cases detected are local cases, three are returning overseas Filipinos, and the remaining cases are being verified whether they are local or not.
"One hundred eleven out of these samples were retrospective runs, ibig sabihin ang collection dates natin ay mula (this means their collection dates are from) August 2021 to January to April 2022 and 79 were the usual run collection dates of May 2022," she said.
"Among the retrospective run, Omicron ay 59 cases, 13 ay Delta cases. Mula naman po sa ating usual run, 55 ang Omicron cases at isa naman ang Delta variant (Fifty-nine are Omicron cases, 13 are Delta cases. From our usual run, 55 are Omicron cases and one is Delta variant)," she added. (PNA)