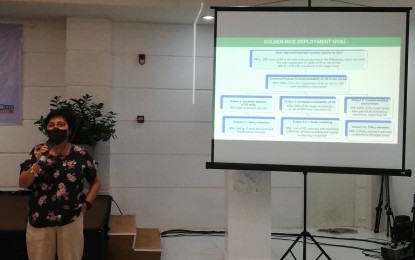 LEGAZPI CITY – The Department of Agriculture-Philippine Rice Research Institute in Bicol (DA-PhilRice-5) will start the production of seeds and grains of "Golden Rice", a palay variety developed by the International Rice Research Institute in the province of Catanduanes.
In a press conference on Tuesday, Dr. Victoria Lapitan, DA-PhilRice Ligao town station director, said Catanduanes is one of the seven pilot provinces selected in the country to become priority areas of the Golden Rice program.
"For Luzon, we have Quirino and Catanduanes. For Visayas, we have Antique and Western Samar, and for Mindanao, we have Agusan Del Sur, Lanao Del Norte and Maguindanao," Lapitan said.
She said while Catanduanes is a rice surplus-producing province, the 2015 updating survey of the Department of Science and Technology-Food and Nutrition Research Institute showed that malnutrition continues to be a severe problem in the province.
"Golden Rice is rich in Vitamin A that it could address the Vitamin A deficiency that leads to malnutrition," she added.
Lapitan said they aim to ensure the availability, affordability, and accessibility of safe and nutritious rice to all Filipinos at all times.
The PhilRice-5, she added, attends to the needs of both Regions 5 (Bicol) and 8 (Eastern Visayas).
She said identified farmer cooperatives from the towns of Virac and Viga in Catanduanes will receive Golden Rice for free.
"Selected farmers from towns of Viga and Virac are set to plant Golden Rice this wet season, they are identified for grain production that will be planted on two hectares. Forty kilos of Golden Rice seeds will be planted on a hectare of rice land and during harvest time when milled, rice will be available to the identified target communities," Lapitan said.
She noted that Golden Rice is planted like the other ordinary rice and will only take 108 to 110 days to be harvested.
"One hectare of irrigated land planted with Golden Rice will have a yield of about 3.5 tons of palay. So for Catanduanes, we are expecting at least 7 tons of palay that will be milled," she said.
Seed production will be supervised by PhilRice in Ligao and Samar stations in 87 hectares of rice farms that will be available for other farmers.
"The branch station will also conduct capacity building, and oversee monitoring and evaluation in Catanduanes to ensure the success of the pilot project," Lapitan said.
PhilRice said when consumed as part of the daily diet, Golden Rice can give young children 30-50 percent of their estimated average requirement of Vitamin A.
The addition of beta-carotene in its grains--which is converted by the human body as needed--is intended to address Vitamin A deficiency that can lead to a weak immune system, impaired cognitive development, and poor eyesight.
Lapitan assured the public that Golden Rice is as safe for consumption as ordinary rice with the added benefit of beta-carotene in the grains. (PNA)