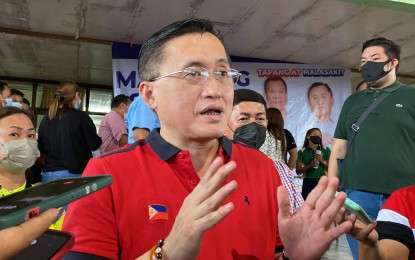 BANAYBANAY, Davao Oriental – Senator Christopher Lawrence Go urged journalist Raissa Robles Tuesday to visit Mindanao so that she "can see it for yourself and be the judge."

Go issued the invitation following Robles' demeaning and inaccurate statements about Mindanao, suggesting that the entire island is infested with terrorists and kidnappers and unfit for tourism.

In a series of social media posts that began on June 2, Robles criticized incoming Tourism Secretary Christina Garcia-Frasco for proposing to open Mindanao to tourists.

Robles, a correspondent for the South China Morning Post, said "the extremist Abu Sayyaf Group (ASG) and other bandits would be pleased by the prospects of so many potential kidnap victims."

She also told Frasco to "prep yourself for ransom negotiations."

Her derogatory comments immediately received backlash from Mindanawons, who pointed out that Robles was perpetuating a decades-old stereotype that unfairly characterizes Mindanao as an undeveloped backwater populated by terrorists and kidnap-for-ransom gangs.

Go noted that during the Duterte administration, the peace in Mindanao was "somehow achieved. It may not be perfect, but we almost achieved total peace in Mindanao."

During President Rodrigo Duterte's six-year stint, Go said the government has drastically lowered the number of insurgencies and terrorism on the island.

"If the President did not stop the war in Marawi, we might be in danger. Lawlessness may reign, but it didn't happen because of the efforts of the government," he said.

Go said kidnapping and other cases of criminality were no longer unique to Mindanao, as other areas in the country comparatively have higher crime rates than most of the major cities on the island.

"You better come here in Mindanao, see for yourself that you will be able to walk during night time without being kidnapped," the senator told Robles.

Go also hopes the next administration would continue what President Duterte started in Mindanao.
Senator Francis Tolentino also refuted assumptions that the whole of Mindanao is not ready for tourism.
"Napakaganda ng tanawin lalo dun. Pagpunta mo ng Davao, Agusan, Surigao, Siargao, kahit Tawi-Tawi, nakapunta na tayo. Ang gaganda ng mga beach sa Tawi-tawi. So, mahirap na i-generalize na magulo infairness sa region (The scenery there is so beautiful especially if you go to Davao, Agusan, Surigao, Siargao, and even Tawi-Tawi, I've been there. Tawi-Tawi's beaches are very beautiful. So, it's not proper to generalize that the region is chaotic, in fairness)," Tolentino said in an interview with "Sa Ganang Mamamayan" program of Net 25.
He also suggested to Frasco to use the airports, seaports, and other terminals that the Duterte administration has established to boost the country's tourism industry.
Last week, Vice President-elect Sara Duterte also lambasted Robles, saying the latter tried to demonize Mindanao and insult its people.

Duterte said the views expressed by Robles should generate a collective condemnation as it grossly discriminated against all Mindanaoans, especially those living in Moro communities.

"As a Filipino, Robles should be ashamed of herself for dangerously trying to stoke and encourage terrorist groups to target tourists in Mindanao," Duterte said. (with reports from Wilnard Bacelonia/PNA)