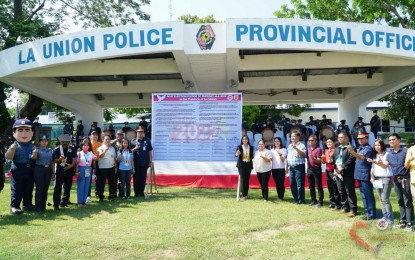 SAN FERNANDO CITY, La Union – Several candidates in the recent local elections in the province of La Union have signed a pledge of support and commitment to maintaining peace and order.
In a phone interview on Tuesday, Lt Col. Dennis Ballitoc, La Union Police Provincial Office community affairs development unit chief, said this was initiated by the Philippine National Police to ensure the absence of post-election violence in the province.
Ballitoc said the signing of the peace covenant was attended by winning and losing local candidates from all over the province.
"Although some were not able to attend the activity, we are still hopeful that indeed there will be zero post-election-related violence," he said.
Each attendee took an oath of support and signed the commitment in a program on Monday.
"The pledge stated that they will support the newly elected officials and that there should be no violence involving the candidates amid the end of the elections," he added.
Ballitoc said the other provinces would follow in the post-election activity as the police provincial units were mandated to conduct the same activity in their respective jurisdiction.
He said that in the previous polls, some untoward incidents happened following the culmination of the election period.
Meanwhile, newly-elected La Union Governor Raphaela Veronica Ortega-David has asked the support from everyone in the province.
"Now more than ever, we at the provincial government of La Union enjoin everyone to support the various projects and programs of the next set of leaders for the next three to six years. Our unity will spell the good fate that awaits our province. Let us wish our new leaders success for we are with them in their victory. Their success is our success as a nation," she said in a speech. (PNA)