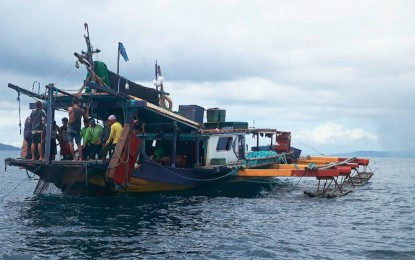 TACLOBAN CITY – A fisherman was killed while two others were hurt while engaged in dynamite fishing in the seawaters of Sto. Niño, Samar on Tuesday, the Philippine National Police (PNP) has reported.
Emiliano Davila, 40, was about to throw the ignited gelatin sticks when it exploded, wounding two others who were standing on the motorized boat, police said on Wednesday.
Other blast victims were his cousins Rolan Davila, 28 and Jorgie Davila, 31.
All victims are residents of coastal Ilijan village in Sto. Niño, Samar, some 10 kilometers away from the town center.
Davila died on the spot while the two other fishermen suffered multiple injuries and were rushed to the Calbayog City District Hospital for treatment.
Samar provincial fishery officer Marlon Sale admitted that dynamite fishing is rampant in the island towns of the province despite the information drive and enforcement activities of local government units.
"It has been the habit of some of our fishermen in Samar to resort to blast fishing to catch more. Even those who have received livelihood assistance from the government also engaged in illegal activities," Sale said in a phone interview.
The deep seawaters of Sto. Niño town is known for its abundant harvest of sardines and spinefoot fish.
Sale said the Bureau of Fisheries and Aquatic Resources (BFAR) has already trained teams in the local government to enforce fishery laws within the municipal waters.
However, sea patrol is not sustained due to limited resources and different priorities of the local government.
"We are working with the local government to ensure that those caught engaged in illegal fishing will be held liable," he added.
The official warned that those caught in blast fishing are liable to immediate imprisonment under section 92 of the Fisheries Code.
Once proven administratively, municipal fishermen will be fined PHP30,000 while commercial fishers are bound to pay more from PHP300,000 to PHP3 million. the prison term ranges from five to 10 years.
The BFAR regional office condemned the continued use of explosives, noxious, or any poisonous substances in fishing.
"It does not only damage our fishery resources, but also result in the loss of human lives. BFAR continues to remind the public, especially our fisherfolk that the illegal practice of using these substances will always bring harm to the environment and human lives," the regional office's statement showed. (PNA)