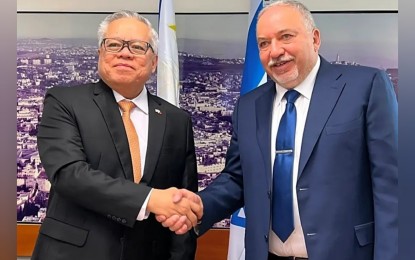 MANILA – The Philippines and Israel have vowed to strengthen bilateral economic relations by signing the Investment Promotion and Protection Agreement (IPPA).
On Wednesday, the Department of Trade and Industry (DTI) said Secretary Ramon Lopez and Israel Finance Minister Avigdor Lieberman signed the IPPA in Jerusalem on June 7.
The two countries agreed to cover national treatment, most favored nation treatment, free transfers, rules-based expropriation and compensation, and investor-state dispute settlement under the IPPA.
Among the industries prioritized under the IPPA include agro-tech, life sciences and healthcare, water technologies, high-technology and semiconductors, cybersecurity, financial technology, defense industry, smart transportation, clean technology, smart manufacturing, and the diamond industry.
Lopez said the IPPA aims to encourage more Israeli businesses to look into investment opportunities in the Philippines.
"The Philippines eyes Israel's expertise on innovation, especially in new and smart technologies that will bring about more competitive and efficient products. On the other hand, Israeli investors expressed interest in investing in the infrastructure, agriculture and water, and business process outsourcing (BPO) sectors in the Philippines," he added.
Aside from the IPPA, the Philippines and Israel also launched their Joint Economic Commission (JEC) and the cooperation agreement with Israel Innovation Authority.
Lopez is in Israel this week to reaffirm trade and investment ties between the two countries even with the change in administration by the end of the month, and to invite Israeli businesses to invest in the country.
"Israeli investors can certainly look forward to maximizing the gains from the game-changing legislative amendments, such as the liberalization of the public services act, retail trade liberalization law, and the foreign investments act and now is the most opportune time to do so," he said.
Israel ranked 34th as the Philippines' trading partner, being the 39th export market and 31st import source.
The outgoing DTI chief has been active in the past six years in expanding trade and investment relations of the country, especially with non-traditional markets.
Aside from Israel, Lopez will be signing the IPPA with the United Arab Emirates this week. (PNA)