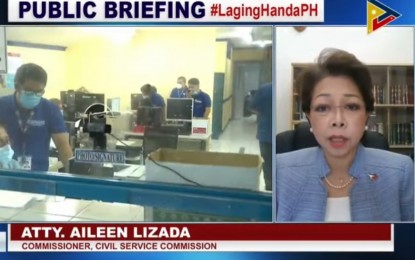 MANILA – Flexible work arrangements for state workers will depend on the decision of their respective agency heads, the Civil Service Commission (CSC) said Wednesday.
In a Laging Handa briefing, CSC commissioner Aileen Lizada said they considered the continuity of public service and speed of government transactions in crafting Resolution No. 2200209, which provides for the flexible work arrangement options in the public sector.
"Eto pong mga flexi work arrangements, hindi ho ito automatic, para, yehey! Hindi ho, depende pa rin po ito sa ating (These flexi work arrangements, these are not automatic. No, they depend [on the decision of] our) heads of agencies," she said.
"Ang ginagawa lang po ng CSC, we provide options and kung ano lang po ang applicable sa agency, pwede nila ho gawin 'yun (What CSC did, we provide options, and they may implement whatever is applicable to the agency)," she added.
There are general requirements for flexible work arrangements.
The government agencies are tasked to formulate their internal guidelines stating that they will adopt and implement it.
The guidelines should comply with CSC, Department of Labor and Employment and Department of Health Joint Memorandum Circular No. 1 series of 2020 to be submitted to the CSC regional offices for record and reference.
Lizada noted the arrangements include work that could be accomplished outside the offices and agencies shall adopt performance standards and timeliness.
She said the flexible workplace option includes:
-Work from home – a work arrangement for the government official or employee to work at home or the residence.
-Work from satellite office – a work arrangement where instead of reporting to their office, they report for work at their agency satellite office near their place of residence, central, regional, and other field offices.
-Work from another fixed place – where work within the Philippines, not abroad, is done at a place conducive for productive work and efficient performance of official duties and responsibilities other than their home or residence or satellite office.
"Pero klaruhin natin ito, conducive for productive work, hindi po puwede ngayong week eh, doon po ako sa Boracay o doon ako sa Palawan, hindi ho puwede (Let's clarify this, conducive for productive work, you can't say you're in Boracay, in Palawan this week) because this is still subject to the supervisor, recommendatory, the heads of the agencies still have the final say on this," she said.
As for flexible work arrangements, Lizada said these include:
-Compressed work week still includes 40 hours of work in a week – The employees may work four days in a week, but the government agencies must ensure there are people present in the offices five days a week.
-Skeleton workforce – refers to a minimum number of government officials or employees reporting to service to man the office where full staffing pattern is not possible.
-Work shifting – refers to work arrangement applicable to offices with 24 hours occupational groups that provide security and safety like Bureau of Immigration, customs, public health, and security.
-Flexitime – the government official or employee can go to work anytime between 7 a.m. to 7 p.m. provided that there is eight hours of work and there are people assigned during the core working hours which is 8 a.m. to 5 p.m.
-Combination – this could be eight hours for four days work in the office and then one day work from home; only if work from home is applicable to the nature of work. (PNA)