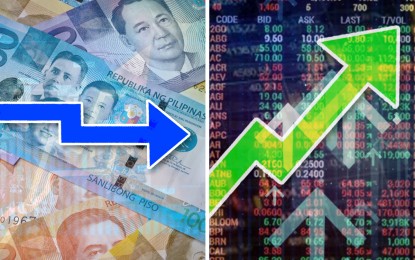 MANILA – The main equities gauge posted another uptick on Wednesday even with global growth concerns while the peso finished the day sideways against the US dollar.
The Philippine Stock Exchange index (PSEi) rose by 0.23 percent, or 15.61 points, to 6,769.62 points.
All Shares followed with a jump of 0.18 percent, or 6.33 points, to 3,604.84 points.
Half of the sectoral gauges tracked the main index namely Financials, 0.85 percent; Industrial, 0.69 percent; and Holding Firms, 0.22 percent.
On the other hand, Services fell by 0.47 percent; Mining and Oil, 0.07 percent; and Property, 0.04 percent.
Volume reached 744.91 million shares amounting to PHP5.37 billion.
Advancers led decliners at 109 to 78, while 46 shares were unchanged.
"Philippine shares rose for the second consecutive day as global markets shrugged off some signs of an economic slowdown ahead of a key inflation reading," said Luis Limlingan, Regina Capital Development Corporation (RCDC) head of sales.
For one, the World Bank (WB) cut its 2022 global growth forecast to 2.9 percent from 4.1 percent earlier on account of the surging global commodities prices.
The US government is set to report the May consumer price index (CPI) figure on Friday.
"If the reading is cooler than April's numbers, as expected, some could interpret it as a sign that inflation has peaked," Limlingan added.
The US inflation rate decelerated to 8.3 percent last April after hitting 8.5 percent in the previous month. However, the level in the fourth month this year remains among the four-decade high.
Meanwhile, the local currency finished the day again in sideways mode at 52.915 from 52.95 in the previous session.
It opened the day at 52.9 and traded between 52.935 and 52.85. Average level for the day stood at 52.899.
Volume reached USD635.56 million, lower than the previous day's USD745.17 million. (PNA)