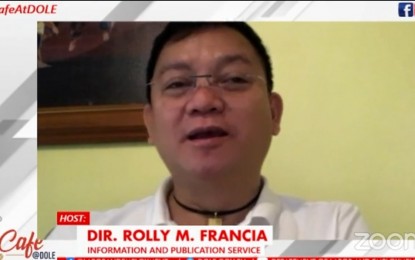 MANILA – Some 104,000 jobs are available at the Independence Day job fairs to be held simultaneously around the country on June 12.
In a virtual forum Wednesday, Rolly Francia, Information and Publication Service (IPS) director of the Department of Labor and Employment (DOLE), said they expect the number of employment opportunities to increase as the scheduled event draws near.
"We hope that it will increase and can even exceed what we had last May 1 where there were 153,000 available jobs. So there are 104,000 available jobs and apart from private companies, there are also available jobs to be offered for government positions," the DOLE official said.
He added that aside from the processing of job applications, vaccination against coronavirus disease 2019 (Covid-19) will also be available to the public at these fairs.
"We will provide you with the list of available jobs in the private sector and even in the government. Then all job sites will also open free vaccinations for those with booster shots and those without vaccinations. This is an opportunity for our countrymen who are looking for work even those who don't work. You can go to the job fair sites to get vaccinated either primary dose or booster shots," he added.
Francia said they also invited President-elect Ferdinand Marcos Jr. to the main event of the Independence Day job fairs in Malolos, Bulacan.
"President (Rodrigo Roa Duterte) already sent word that he will not be able to attend but the Secretary (Silvestre Bello III) will be there on June 12. We invited President-elect Ferdinand "Bongbong" Marcos Jr. to the job fair and we have yet to receive a confirmation of his attendance," he added.
Meanwhile, Francia said the DOLE does not support the Department of Migrant Workers' (DMW) act of deactivating the website of the Philippine Overseas Employment Administration (POEA).
Francia said the dismantling of the website has interrupted the services of the agency.
"We are swamped with complaints. It caused a big disruption in the operations of the POEA," he added.
Among the services provided by the website, www.poea.gov.ph, are the processing of employment contracts, filing job orders, and issuance of exit clearances.
Under Republic Act No. 11641, the POEA will be merged with other agencies mandated to serve OFWs, and will be integrated into the DMW. (PNA)