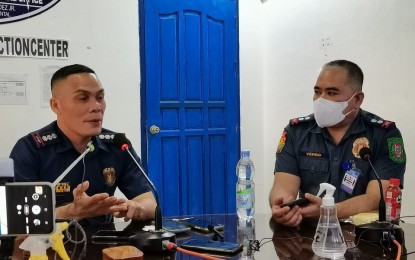 DUMAGUETE CITY – Despite the lack of police personnel in Negros Oriental, crime statistics in the province from January to May this year decreased compared to the same period last year.
Records from the Negros Oriental Provincial Police Office (NOPPO) showed that from January to May this year, the province logged 1,993 total crimes compared to 2,856 for the same period last year.
This showed a variance of 923 crimes or a decline of 32.3 percent.
The NOPPO also reported a drop in all of the eight focus index crimes.
On Wednesday, Lt. Col. Ruben Verbo Jr., chief of the NOPPO's information officer, said this is "very encouraging considering the lack of police personnel in Negros Oriental with the current ratio of 1:800 (one police personnel to 800 citizens)".
Verbo said the decrease in crimes is attributed to the efforts of the police in managing the peace and order in the communities despite the shortfall.
"Ideally, the ratio would be 1:500, especially for cities like Dumaguete," he noted.
He is hopeful of high recruitment to the Philippine National Police (PNP) this year so that the province can receive additional police personnel.
Col. Jacob Crisostomo, chief of the regional recruitment and selection unit of the Police Regional Office 7 (PRO7) in Central Visayas on Monday visited Negros Oriental to encourage young men and women to join the PNP.
"I am soliciting the support of the communities to our new recruitment system which is faster, more convenient, and will eliminate the 'padrino' (patronage) practice as well as other methods of entering the police organization, such as paying their way in through 'fixers'," Crisostomo said in mixed English and Cebuano during a press conference.
The PNP has to double its efforts in its recruitment process which was stalled for two years due to the Covid-19 pandemic and thus "some applications are recycled", he said.
"The recruitment process is now transparent. The first step is the so-called nameless and faceless applicant who goes online, fills out forms without identification and photos, and receives a QR Code, which they would present to the next step if they qualify," he added. (PNA)