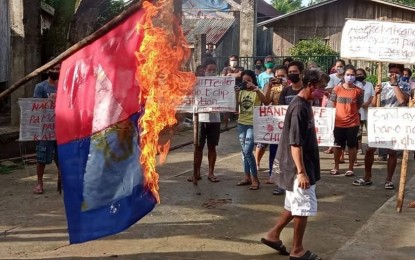 TACLOBAN CITY – The Philippine Army has expressed concern over the possible resurgence of the New People's Army (NPA) in seven remote villages of Victoria, Northern Samar as former rebels refuse to cooperate in the government's counterinsurgency efforts due to likely threats from the communist group.
Their silence over sightings of NPA fighters in the past few months is an indication that they are being threatened by armed rebels, said 1st Lt. Benigno Lopez, spokesperson of the Army's 43rd Infantry Battalion in a phone interview Thursday.
"We were surprised that they have not shown up in our regular monthly dialogues in the past two months. Since in the early part of 2022, they have not been providing intelligence information to us even if there are confirmed sightings of NPA members in their communities," Lopez added.
These villages in Victoria town are Luisita, Lungib, San Roman, Maxvilla, San Miguel, Buenasuerte, and Pasabuena.
Last year, at least 198 NPA militias and members of Batakang Organisasyon han Partido (BOP), the rebel's mass organization in villages, voluntarily surrendered after the conduct of retooled community support program (RCSP) by government troops.
RCSP seeks to link arms between basic service providers from the central government, community participation groups from the local governments, and the security sector from the military and police.
"Since these communities have been covered by RCSP, these are the target of NPA for recovery. One of their strategies is to threaten their former supporters for them not to cooperate with the government," Lopez told the Philippine News Agency.
One case, according to the official is Romnick Rosas, 31, farmer, and a resident of Pasabuena village in Victoria town.
Rosas was brutally killed on November 2021 by NPA members on suspicion that he was a government informant.
On Tuesday, the military raised the issue in a meeting with members of the municipal task force to end local communist armed conflict.
The main agenda is to prevent the resurgence of communist terrorist group's activities in these villages.
Lopez said the local government committed to prioritizing projects such as the provision of potable water and facilitating the resolution of land ownership issues.
Victoria is a 5th-class town with a population of 15,361. Out of its 16 villages, seven are reportedly infiltrated by the NPA until 2020.
On March 28, 2019, some 50 NPA rebels attacked the Victoria, Northern Samar municipal police station.
The three-hour gun battle killed three rebels while four were arrested.
Only two of the 15 police officers on duty were slightly injured after successfully defending their unit.
The Communist Party of the Philippines (CPP)-NPA is listed as a terrorist organization by the United States, European Union, the United Kingdom, Australia, Canada, New Zealand, and the Philippines.
The Anti-Terrorism Council also formally designated the National Democratic Front as a terrorist organization on June 23, 2021, citing it as "an integral and inseparable part" of the CPP-NPA that was created in April 1973. (PNA)