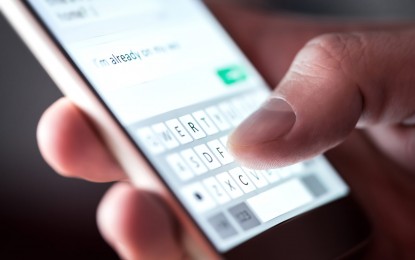 MANILA – Senator Grace Poe on Thursday urged the Department of Information and Communications Technology (DICT) and the National Telecommunications Office (NTC) to heighten efforts against text scams.
This, after the lady senator received unwanted text messages from unknown mobile phone numbers offering jobs, extra income, incentives, and freebies.
"As more rely on digital technology to cope with the hard times, so must we intensify all necessary safeguards against heightened risks that can overturn our people's efforts at recovery," she said in a statement.
Poe also urged the incoming 19th Congress to take up again the SIM card registration bill to help institutionalize protection for millions of mobile phone users in the country.
Last April, President Rodrigo Duterte vetoed the proposed Subscriber Identity Module (SIM) Card Registration Act, citing concerns about free speech and data privacy.
House of Representatives Deputy Speaker Wes Gatchalian pointed at the insertion of "social media providers registration" by outgoing Senator Franklin Drilon as the main reason why the bill was vetoed.
Drilon disputed that the provision he introduced in the bill was not a last-minute insertion, saying it was studied thoroughly before tackling it in the Senate plenary.
He said 22 senators voted in favor of the measure on the third reading and the House of Representatives adopted their version with little modification.
Incoming DICT Secretary Ivan John Uy earlier suggested that the government's law enforcement personnel need to undergo more training to solve the problem of continuing text and online scams.
"We need to build up a better digital police or a digital NBI that can go after these cybercriminals. We need more training and we need to select the right people in order to be able to do this properly," Uy said in a public briefing.
DICT, in a previous statement, reminded the public that offers and invitations to participate in schemes promising easy money, especially in these difficult times, must also be carefully studied and examined.
"The public must be wary of text scams using the name of government officials, wherein one would receive a text message stating they won money via electronic raffle. If an investment opportunity sounds too good to be true, it is," the statement read. (PNA)