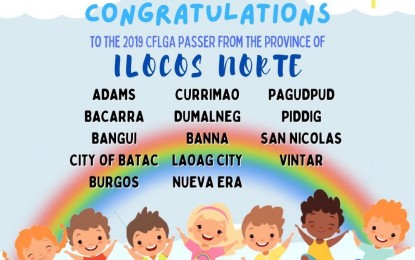 LAOAG CITY – Fourteen local government units (LGUs) in Ilocos Norte have been recognized as among the most child-friendly places in the country, based on the latest evaluation of the Council for the Welfare of Children (CWC).
Out of the 315 eligible local government units for the seal of child-friendly local governance nationwide, the Department of Interior and Local Government (DILG) named Thursday the Ilocos Norte cities of Batac and Laoag, as well as, the municipalities of Adams, Bacarra, Bangui, Burgos, Currimao, Dumalneg, Banna, Nueva Era, Pagudpud, Piddig, San Nicolas and Vintar in the province as most child-friendly, particularly in delivering social services that promote the welfare of children.
The national government, spearheaded by the CWC, had set the criteria focused on health, education, protection, and children's participation.
"We are so proud of this another achievement of our city because we are able to sustain the good practices of being a child-friendly city," said mayor Albert Chua of Batac City on Thursday as he congratulated other local government units in the province that passed the child-friendly assessment.
Among the indicators used to evaluate the LGUs were child survival, development, protection, participation, and governance, as well as the LGUs' overall performance in implementing child-friendly policies, programs, projects, and services.
The audit-generated data and results will be used by all LGUs and concerned government agencies to identify strengths and opportunities to ensure and uphold children's rights in relation to local governance in the country.
As part of the provincial government's continuing efforts to make Ilocos Norte a livable province, more "3G parks" are being improved and established near municipal town halls and public schools to encourage more children to play outdoors instead of staying indoors, hooked up with television sets and gadgets.
A 3G park refers to a communal space wherein children, adults and middle-aged, and seniors can come together and engage in active play or exercise in an environment that is both secure and ripe for recreation.
Ilocos Norte aims to establish at least 12 communal parks around its 21 towns and two cities, in an effort to promote an active lifestyle and overall wellness in the community.
"I'm looking forward to a continued partnership between the municipal and city government units and the provincial government to focus more on health and wellness, to have a place for family picnic or get together with friends of all ages," said Governor Matthew Joseph Manotoc in an earlier interview.
The establishment of 3G parks was funded under the Ilocos Norte government's special educational fund meant for recreational activities and strengthening community relations. (PNA)