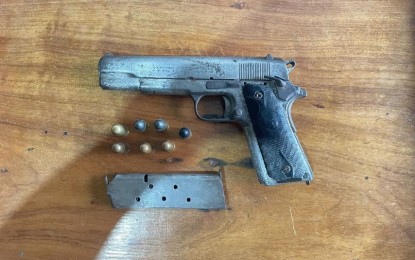 TACLOBAN CITY – A fighter of the New People's Army (NPA) has voluntarily surrendered to the military on Wednesday turning over his firearm in the town of San Jose de Buan, Samar.
The Army's 87th Infantry Battalion identified the surrenderer as alias "Rex", 30, member of platoon Paran, sub-regional committee browser of NPA's Eastern Visayas regional party committee.
Lt. Col. Luzelito Betinol, commander of the Army's 87th Infantry Battalion (IB) said on Thursday that Rex turned over a .45-caliber pistol he used in his three years of armed struggle against government forces.
"He opted to ran off from the armed group because of his resentment against NPA leaders in their sweet promises that only led to the terrorist's self-interest. The thirst, hunger, and exhaustion they have experienced in rambling is in contrary to the promising bright future they were promised to experience," Betinol said in a statement.
The official urged the remaining NPA members to peacefully surrender and lay down their arms as numerous benefits and programs await in their desire to live normally.
San Jose de Buan is a 4th class town in Samar with a population of 7,767.
The town has been one of the focus of the government's counterinsurgency campaign due to the frequent sighting of NPA fighters in the area.
The 87th IB reported that between 2020 to 2021, at least 16 NPA members and staunch allies in the town yielded to the government.
Nine of its villages have been cleared from threats of the communist terrorist group.
The town is one of NPA's strongholds in Samar Island considering its strategic location within the tri-boundaries of Northern Samar, Eastern Samar, and Samar provinces.
The poor road network, thick forest, and high poverty incidence make the area vulnerable to NPA recruitment, according to the military.
The Communist Party of the Philippines- NPA, which has been waging a five-decade armed struggle against the government, is listed as a terrorist organization by the United States, the European Union, the United Kingdom, Australia, Canada, New Zealand, and the Philippines.
The Anti-Terrorism Council also formally designated the National Democratic Front as a terrorist organization on June 23, 2021, citing it as "an integral and inseparable part" of the CPP-NPA that was created in April 1973. (PNA)