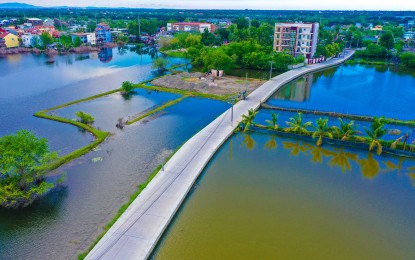 DAGUPAN CITY – The farm-to-market road in Barangay Lucao here has boosted the aquaculture and agri-fishery by easing the transport of produce to the market.
Department of Public Works and Highways Ilocos Region information officer Esperanza Tinaza said the concrete road, measuring 1.302 lane kilometers, is being implemented by the Pangasinan Second District Engineering District Office.
"It has increased the demand for bangus (milkfish) as it became more accessible to the public. This has improved the livelihood opportunities of the residents of Barangay Lucao," she said in an interview on Thursday.
The village has a lot of fish ponds where it grows milkfish.
Tinaza said the travel time from the village to the city's market has been reduced by half, which helped the fisherfolk save on delivery expenses and time, as well as ensure the freshness of their aquaculture product.
"It is expected to further boost the agri-fishery production, contributing to the uplifting of the economy of the city," she said.
The project, costing PHP10 million, was funded by the Department of Agriculture Bayanihan II 2020, she added.
Meanwhile, Raniel Ebreo, a bangus trader, said the road made it easier for them to access the village and it is not also muddy anymore during the rainy season. (PNA)