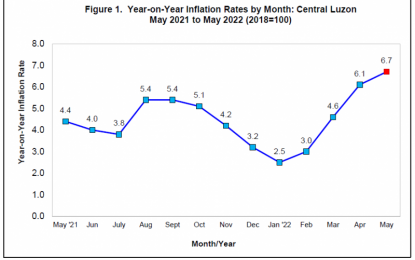 CITY OF SAN FERNANDO, Pampanga – The inflation in Central Luzon climbed to 6.7 percent in May 2022, the highest annual rate recorded in the region since January 2019, the Philippine Statistics Authority-Regional Statistical Services Office (PSA-RSSO) reported on Thursday.
The latest figure was 2.3 percentage points higher than in May 2021, and higher by 0.6 percentage points from the recorded 6.1 in April 2022.
Central Luzon ranked second among the regions with the highest inflation in the country, after Cordillera Administrative Region, which logged 6.9 percent.
On the other hand, the Bangsamoro Autonomous Region in Muslim Mindanao (BARMM) had the lowest inflation at 2.4 percent followed by Northern Mindanao at 4.6 percent.
The annual inflation rate in the country inched up to 5.4 percent in May 2022 compared to 4.9 percent in April 2022.
In her report, PSA-RSSO III officer-in-charge Arlene Divino said the index of food and non-alcoholic beverages demonstrated a faster annual increase to 5.1 percent from 4.5 percent in April 2022.
Faster annual increments in the inflation were also registered in the indices of transport at 14.5 percent; housing, water, electricity, gas, and other fuels at 11.8 percent; alcoholic beverages and tobacco at 8.5 percent; personal care, and miscellaneous goods and services at 3 percent; and clothing and footwear at 2.4 percent.
The annual growth rate in the regional food index registered an increment of 5.8 percent in May 2022 from 4.8 percent in April 2022.
The continued upward trend in the food index can be primarily attributed to the increases in the annual growth rate of the following food indices: vegetables, tubers, plantains, cooking bananas, and pulses at 27.3 percent; oils and fats at 18.9 percent; fish and other seafood at 7 percent and meat and other parts of slaughtered land animals at 3.7 percent.
The increase was also noted in sugar, confectionery, and desserts at 8.8 percent; flour, bread, and other bakery products, pasta products, and other cereals at 5.1 percent; ready-made food and other food products at 4 percent; milk and other dairy products and eggs at 2.1 percent. (PNA)