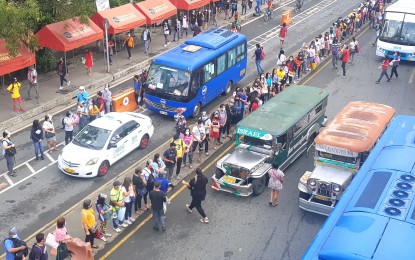 MANILA – Senators on Thursday suggested other options for the Land Transportation and Franchising Regulatory Board (LTFRB) other than its approval of the PHP1 provisional fare increase for jeepneys amid huge oil price hikes.
Senator Aquilino "Koko" Pimentel III said LTFRB needs to be sensitive and proactive in its decisions.
"They should not be too formal anymore. If there is a petition or a cry for help to increase transportation fares, or other benefits, or other prices being regulated, they should take quasi-judicial notice of what is happening in the world since they are quasi-judicial bodies," he said in an interview with CNN Philippines.
Although he supports the move, Pimentel said LTFRB should ask for feedback from the transport groups.
"I'm sure, may (there are) time logs between the petition and the approval of the petition, and then may nangyari na (there were events already happened) in between. Pwedeng tumaas pa yung presyo ng diesel or ng gasolina. So, magbigay po sila kaagad ng feedback para maka-adjust po ulit ang mga regulatory agencies (The prices of diesel or gasoline might increase. So, they should immediately give their feedback so that regulatory agencies can adjust again)," he said.
Pimentel also suggested for the government to temporarily suspend value-added tax and excise tax for fuel to lessen the impact of the oil price increases in the world market.
Meanwhile, Senator Risa Hontiveros also thanked LTFRB for deciding to increase the minimum fare for jeepneys in the National Capital Region.
She, however, said the provisional increase is not enough saying the move was still based on the rate in 2018 when diesel was still at PHP40 per liter.
"Ngayon PHP80 per liter na ang presyo ng produktong petrolyo (Now, fuel products are at PHP80 already). This is definitely not a substitute for a decision on the PHP14 minimum fare increase petition of operators," Hontiveros said in a statement.
She proposed to expand the government's service contracting program and use the collected excise tax to boost public transport and keep it running.
"All other prices have increased, since then, pati piyesa at pagkain. Buhayin naman natin ang ating (including parts and food. Let us keep alive our) transport sector," Hontiveros added.
Starting Thursday, the minimum fare on jeepneys traveling in Metro Manila, Central Luzon, Calabarzon, and Mimaropa will be PHP10 after LTFRB approved the provisional PHP1 increase petitioned by groups representing jeepney drivers.
In a statement, LTFRB said while it recognizes the plight of the Filipino people every time an increase in the price of commodities occurs, including the cost of public transport, it cannot be insensitive to the clamor and plight of PUV operators and drivers who are responsible in ensuring a steady supply of public transport services.
"It is noteworthy that the PUJ service, to which mode of public transport the petitioners belong, carries the most number of ordinary commuters on a daily basis. It is the mandate and duty of the LTFRB to judiciously balance the economic viability of the industry versus the welfare of the riding public," it said. (PNA)