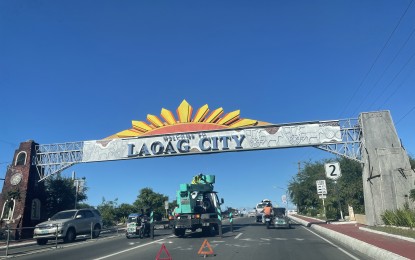 LAOAG CITY – In time for the celebration of Laoag's Charter Day, President Rodrigo Duterte has declared June 20 a special non-working holiday in the city.
"The people of Laoag City must be given full opportunity to celebrate and participate in the occasion with appropriate ceremonies," Executive Secretary Salvador C. Medialdea said in Proclamation 1385.
Laoag became a city in 1965 by virtue of Republic Act 4584 and was approved through a plebiscite.
When asked about the city government's preparatory activities, Christian Francis Garvida, secretary to the mayor, said Thursday a Dulang (food) fair and awarding of the best performing barangay will be the highlight of the 57th Charter Day of the city.
Just like in previous celebrations, a flag-raising and wreath-laying ceremonies will also be conducted in front of the city hall, Garvida said.
For reelected Mayor Michael Keon, the city government's 57th Charter Day celebration is extra special under his second term as he intends to transform Laoag into the "great city" it deserves to be.
Recently, the Commission on Audit has given the city government the highest rating on the fairness of the presentation of its financial statements.
The unmodified audit opinion aims to ascertain the accuracy of financial records and reports in accordance with the provisions of the Philippine Public Sector Accounting Standards. (PNA)