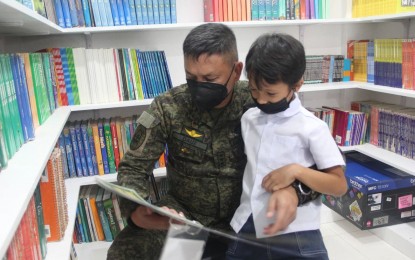 CEBU CITY – The chief of the Armed Forces of the Philippines' (AFP) Visayas Command (Viscom) on Thursday said they will collaborate with the private sector in establishing more learning hubs in the communities as a way to counter the narratives of the communist terrorist groups that the government is militarizing campuses.
Lt. Gen. Robert Dauz, Viscom chief, said the mini-library they turned over on Wednesday to the community in the hinterland Cambubho Integrated School in the northern city of Danao is a testament that such an initiative of providing learning hubs to grassroots is possible with the partnership of the private sector.
Dauz said they built the second learning hub in Danao City to counter the narratives from the Communist Party of the Philippines-New People's Army-National Democratic Front (CPP-NPA-NDF) that they are imposing military rule inside campuses.
"This project is our project. We don't claim it as ours (in the military) although this is one of our initiatives. This is one way of countering the narratives of the communists who are saying that if we enter schools, all that we do is militarization," he said in a message.
Dauz said Viscom partnered with Colegio de la Immaculada Concepcion Alumni Association Batch 1991, the Department of Education, and the Department of Information and Communications Technology in establishing the learning hub.
The activity is also part of the AFP's support program for the government's socio-development project and peace and order in the villages once a hotbed of communist insurgency.
The top military official in the Visayas cited the help of the local DepEd officers who pledged to maintain the learning hub in Cambubho.
Maj. Joe Patrick Martinez, 3rd Civil Relations Group commander, said the mini-library contains a variety of books, and three sets of DICT-donated computers with the latest models of printers.
He said the DICT also pledged to provide internet connectivity that will not only serve the villagers of Cambubho but also in the neighboring barangays of Pili, Santican, and Lawaan.
The Department of Science and Technology will also install "Starbooks Library" in the learning hub's computer sets.
The first mini-library was launched inside Camp Lapu-Lapu where the Viscom headquarters is situated. (PNA)