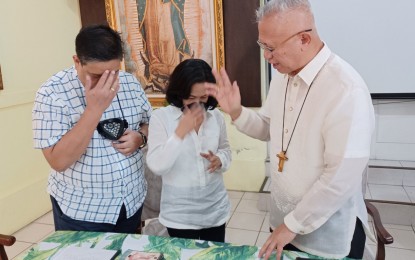 CEBU CITY – An engineer and his wife will be sent to Rome, Italy to represent the Archdiocese of Cebu in the global gathering of families that is set to tackle pressing challenges affecting household life, the local prelate here said on Thursday.
Cebu Archbishop Jose Palma said in a press conference they are sending Jose Mari Suico and his wife Concepcion to Italy for the 10th World Meeting of Families (WMF) on June 25-26.
The Suico couple, along with another couple, Rolando and Besalina Pansoy, assisted the Roman Catholic Church in Cebu in organizing the Archdiocesan Family Congress at the Skyhall SM Seaside on June 25 and in the Waterfront Hotel here on the following day.
Palma said the Cebu archdiocese is ready to hold the two-day 10th World Meeting of Families (WMF) on June 25-26, where among the important topics for discussion are the "challenges in the family" as well as "mental health issues among the youth".
The prelate said the event is in response to the "specific instruction" of Pope Francis that local churches celebrate the WMF and hold activities in parallel with the happenings in Rome.
"This gathering of families (is) to address the issues… We announce to the world there are many challenges the family faces. There are many concerns and problems. But we would also like to announce to the world that there are also many consolations, blessings when families try to live up to their visions and mission, to their identity," Palma said at the conference.
Fr. Jonathan Rubin, head of the archdiocesan digital communications, said the second conference on the second day of June 25 at the Skyhall SM Seaside would tackle "family love" and a breakout session with industrial and clinical psychologist Dr. Anna Kathrina Oaminal-Watin will focus on mental health issues among the young.
Fr. Eligio Suico, chair of the Commission on Family and Life, said the event will kick off with a Holy Mass to be led by Palma on June 22, which will be done along the Holy Mass in the Vatican on the same day.
Parishes in Cebu are also expected to hold a simultaneous celebration of the Holy Mass as well as the ringing of the church bell.
The event will only cater to 1,500 participants. But interested families who want to participate in the conference at the SM Seaside on June 25 and the Waterfront Hotel here on June 26.
The event will culminate with a Holy Mass at the National Shrine of the Our Lady of Guadalupe on June 26. (PNA)