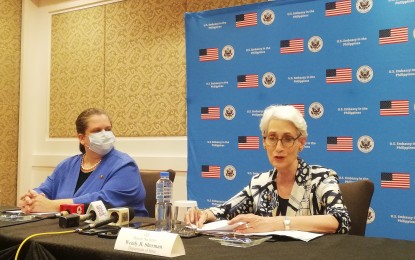 MANILA – As head of state, President-elect Ferdinand Marcos Jr. is automatically free to visit the United States, a ranking official said Thursday.
In a media roundtable, Deputy Secretary of State Wendy Sherman, said: "This is not something that needs to be discussed. The fact is that when you're head of state, you have (diplomatic) immunity in all circumstances and are welcome to the United States in your official role."
Had Marcos been the president at the time Washington DC held the US-Association of Southeast Asian Nations Special Summit last May, Sherman added: "He would have been there."
The statement came when she was asked about the president-elect's contempt judgment in the US.
Sherman said President Joseph Biden looks forward to working with Marcos and his administration on a range of areas of cooperation, including health, energy, and defense and security, among others.
Sherman was the first high-ranking foreign government official to personally meet Marcos after he was proclaimed president-elect.
On their bilateral meet, Sherman, said: "We had a very positive and productive meeting about the broad range of issues important to the bilateral relationship between our countries—including people-to-people ties, clean energy, food security, inclusive economic development, reducing barriers to trade and investment, and maintaining freedom of navigation in the South China Sea and upholding the rules-based international order."
"President Biden looks forward to working with President-elect Marcos and his administration when they take office in the next few weeks," she added. (PNA)