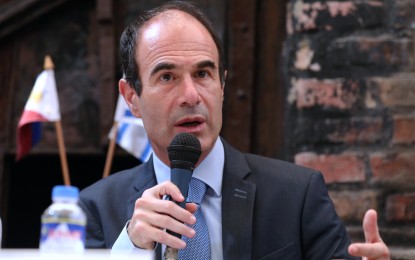 MANILA – The Philippines and Israel will craft a roadmap to boost trade and investment relations between the two countries through their new Joint Economic Commission (JEC).
Israel Ambassador to the Philippines Ilan Fluss said in an interview Friday the first JEC meeting between the two governments will likely start within the year.
"We are waiting for the new administration to come in, and then we'll develop a roadmap that will be mutually agreed (upon)," Fluss told reporters.
This, as Department of Trade and Industry (DTI) Secretary Ramon Lopez and Israeli Minister of Economy and Industry Orna Barbivai, signed a memorandum of understanding (MOU) establishing the JEC last June 7.
The Israeli envoy said the JEC will open up huge economic opportunities for the two countries in terms of trade and investments, he said "we are not tapping the potential".
Fluss said with the reopening of the Philippine economy since the onset of the pandemic, the JEC is very timely to advance the bilateral economic ties of the two nations, especially in areas of agriculture, technology, information communications technology, cybersecurity, and electronics, among others.
Economic Attaché and Head of the Economic Mission in Manila Tomer Heyvi said two-way trade in goods between the Philippines and Israel in 2021 amounted to USD323 million, nearly reaching its pre-pandemic level of less than USD400 million.
However, trade with the Philippines is still behind compared to other countries in Southeast Asia. Israel has USD1-billion trade with Singapore, followed by Vietnam and Thailand.
Heyvi added that through the JEC and other cooperation agreements signed between the two governments during the Philippine delegation visit to Israel this week, trade in goods and services would be growing faster in the coming years.
"Currently, it's not yet fulfilling its potential. The potential is much higher in many sectors," he said.
For instance, Israel's exports to the Philippines comprised less than 1 percent of its total exports to the world.
Fluss and Heyvi said the goal, in the long run, is to have a free trade agreement, but a trade deal would only be practical if levels of trade will increase, and this could be addressed by the JEC. (PNA)