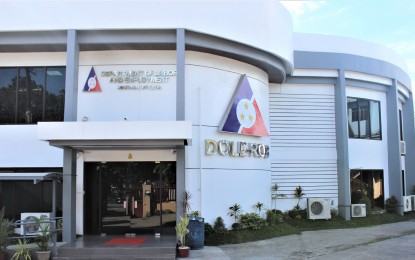 TACLOBAN CITY – The Regional Tripartite Wages and Productivity Board (RTWPB) on Friday released the new order granting a PHP50 daily minimum wage hike to workers in the private sector in Eastern Visayas, to be implemented in two tranches.
Under Wage Order No. 22, minimum wage earners will have a PHP25 increase in their daily pay effective 15 days after its publication.
The directive will be published on Saturday.
The remaining PHP25 raise will be carried out beginning Jan. 2, 2023.
The new order was signed by the regional wage board on June 6 and approved by National Wages and Productivity Commission on Friday.
From a minimum daily pay of PHP325 under the old wage order, workers in the non-agriculture sector including sugar mills are entitled to a PHP350 daily wage under the new order.
The board ruled to increase the pay for those employed in the retail services (with 11 workers and above) to PHP350 from PHP325. For workers in smaller retail businesses (with 10 employees and below), the new minimum daily pay is PHP320 from PHP295.
Those employers in cottage and handicraft industries will receive a daily pay of PHP320.
Workers in the farming sector got a daily pay of PHP320 under Wage Order No. 22.
"The minimum wage rates prescribed under this order will be for the normal working hours which will not exceed eight hours of work daily," the wage board said in its order released to the public.
The new order was out nearly three years after the issuance of the previous one in August 2019.
"After a thorough review and evaluation, the board found that the consumer price index in the region increased from 101.4 in August 2019 to 114.4 in April 2022. The region's inflation rate likewise increased from 0.8 to 6.1 in the same period," the board added.
Meanwhile, the board also ruled that domestic helpers in Eastern Visayas will have an increase of PHP500 monthly from PHP4,500 to PHP5,000 for those employed in chartered cities and first-class towns.
For those working in other towns, the new monthly wage is PHP4,500 from the current PHP4,000. It will also take effect five days after its publication.
The RTWPB issued the new order after consultations in Ormoc City for the Western Leyte area, Maasin City for Southern Leyte province, Naval for Biliran province, Calbayog City for Samar province, Catarman, for Northern Samar province, Borongan City for Eastern Samar area, and Tacloban City for Leyte province.
The regional board in Eastern Visayas is a tripartite body composed of six members -- three representatives from the government, two from the workers' sector, and one from the employers' side. (PNA)