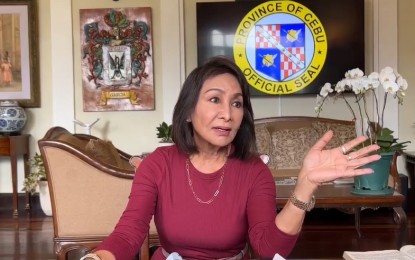 CEBU CITY – Governor Gwendolyn Garcia on Friday said the executive order she issued making the wearing of face masks optional in open-space and well-ventilated areas is to ease the burden of her pandemic-fatigued constituents.
In a press conference, Garcia explained that there is nothing in Executive Order No. 16 that totally scraps the wearing of face masks, adding that it is still required in close and air-conditioned spaces but optional in well-ventilated and open spaces.
The order, she said, is rationalizing the situation amid the coronavirus disease 2019 (Covid-19) pandemic.
"We are not saying do not use face masks. It's your choice. Those that would wish to breathe in pure oxygen, the more beneficial sea air, then please, let's not bring the wearing of face masks to ridiculous levels," she said.
However, Garcia advised the members of the provincial police not to apprehend anyone who is found not wearing a face mask, pointing out her policy not to effect arrest but to give a face mask, instead, to violators for humanitarian reasons.
The governor's advice came as a reaction to the statement of Department of the Interior and Local Governor Secretary Eduardo Año that the police will continue to apprehend those who will violate the Inter-Agency Task Force for the Management of Emerging Infectious Diseases guidelines in Cebu province.
Citing her reelection last May 9, Garcia invoked Section 105 of the Republic Act 7160, the Local Government Code, on the direct national supervision and control of the Secretary of Heath during the coronavirus disease 2019 (Covid-19) which would only last for a period of six months.
She also cited the seeming failure of the authorities to make arrests during political campaign rallies where supporters were seen not wearing face masks.
Masks on
In spite of Garcia's EO, two big cities in Metro Cebu will still require their constituents to continue wearing face masks in public.
Cebu City Mayor Michael Rama said he will not follow Garcia's order, saying that the city and Cebu province have different situations.
"No. We have a different geographic situation here in Cebu City. Number 2 we should look at it what we call 'point of assembly'. The city is a convergence (area)," he said.
Rama said it is not yet the right time for the capital city to get rid of the mask, citing that due to the city government's open-up policy, more people are going outside.
The mayor clarified that he is not disregarding the idea of requiring face masks for the outdoor setting.
"Right now, I'm not saying looking beyond we will not get rid of the mask but as of this time, let's mask on," he added.
Residents in Mandaue City were likewise told to continue wearing face masks.
Lawyer John Eddu Ibañez, chief of staff of Mayor Jonas Cortes, said the use of a face mask is still required based on an existing city ordinance. (PNA)