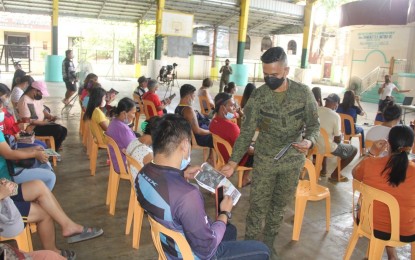 FORT MAGSAYSAY, Nueva Ecija – An official of the Philippine Army is asking for the support and cooperation of the business sector in this province to put an end to the communist terrorist groups' (CTGs) extortion scheme.
1st Lt. Arnold A. Quiñon, civil military operations officer of the Army's 84th Infantry (Victorious) Battalion under the 7th Infantry Division (7ID), said on Friday the support of all stakeholders is necessary to put a stop to the extortion activities of the Communist Party of the Philippines-New People's Army (CPP-NPA).
"Extortion is an act of collecting money and other logistical items by threat, force, violence, or intimidation to an individual or entity. Business sectors are being targeted by these communist terrorist groups to generate funds for communist terrorism in the country. Therefore, we are soliciting your support and cooperation to stop and end CTGs extortion activities," Quiñon said in a statement.
He said an information awareness drive on such extortion was initiated by the Army's 84IB and the Philippine National Police in Carranglan town, this province and participated in by 54 individuals from the business sector last Tuesday.
During the event, he said a former rebel identified as alias "May", shared her personal knowledge of how CTGs systematically conduct their extortion activities.
Meanwhile, Maj. Gen. Andrew D. Costelo, 7ID commander, likewise appealed to the business sector to help the government in addressing the rebel group's resource generation scheme that enables them to continue their terrorist activities.
"Let us be aware of the deceitful act of our enemy, do not hesitate to tell the authorities especially the Philippine Army in times you encounter extortion. We are here to help and protect you against them," Costelo said.
The CPP-NPA, which has been waging a five-decade armed struggle against the government, is listed as a terrorist organization by the United States, the European Union, the United Kingdom, Australia, Canada, New Zealand, and the Philippines.
The Anti-Terrorism Council also formally designated the National Democratic Front as a terrorist organization on June 23, 2021, citing it as "an integral and inseparable part" of the CPP-NPA that was created in April 1973. (PNA)