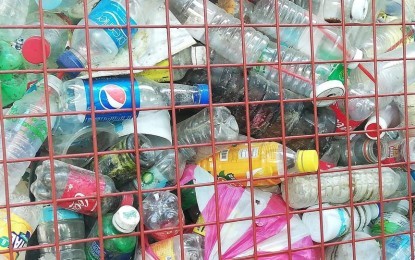 MANILA – A lawmaker on Friday asked President Rodrigo Duterte to sign into law a measure seeking to make producers and their distributors responsible for proper management and disposal of their plastic packaging waste.
In a statement, Camarines Sur Representative Luis Raymund Villafuerte said the measure, which has been ratified by both chambers of Congress and transmitted to Malacañang for President Duterte's signature, aims to upgrade the recycling or reuse of discarded plastic containers and packaging materials, as well as reduce waste generation.
The Extended Producer Responsibility (EPR) bill seeks to amend Republic Act (RA) 9003 or the Ecological Solid Waste Management Act of 2000.
"The measure institutionalizes the practice of EPR in waste management that imparts on producers, in coordination with their distributors and retailers, the responsibility of properly and effectively disposing of their products after these have been sold to and used by consumers," Villafuerte said.
Villafuerte, an author of the measure, proposed incentives for producers, distributors, and retailers that will adopt mechanisms and strategies for the proper and effective management of the waste generated from the use or consumption of the goods that they produce, and distribute or sell to the public.
"Solving our waste management problem appears to be elusive for the Philippine government despite the enactment of RA 9003," Villafuerte said. "Proper segregation, inefficient collection, improper disposal, and inadequate facilities remain unsolved."
The bill proposes to institutionalize the practice of EPR, especially in industries that generate plastic waste.
EPR refers to the environmental policy, initiatives, and practices, in which companies and corporations are obliged to have the responsibility for proper and effective recovery, treatment, recycling, and disposal of their products after they have been sold and used by consumers aimed at improving ecological management.
"EPR systems are now being observed in some of the European Union (EU) member-countries such as Austria, Belgium, Czech Republic, France, Germany, Italy, Sweden and Spain," he said.
In view of the EPR, he suggested that producers and their distributors and retailers could redesign or adopt packaging to improve the recyclability or reusability of the plastic containers and packaging of the products that they sell.
He said there should also be a time-bound withdrawal or phaseout of non-recyclable products and packaging, in favor of environmentally sound yet economically viable alternatives.
He said an efficient retrieval system for the plastic containers and packaging materials, collection sites, and recycling facilities should be established.
Deputy Speaker Camille Villar, for her part, said the proposal would hold companies responsible for recycling, which would be a crucial step to address the growing problem of plastic pollution in the country.
Villar said there is an urgent need to pass the packaging responsibility or product stewardship bill as consumers generate more single-use packaging and plastics from online purchases amid the coronavirus pandemic.
"The pandemic has likewise resulted in a surge in plastic use consequently complicating and aggravating this problem. There is a need for a collective effort and duty to decisively and effectively pass a measure that would address this present situation," Villar said.
She noted that plastic waste makes up a significant share of the overall generated waste in the Philippines, adding that the Philippines is the third biggest polluter next to China and Indonesia and produces some 2.7 million metric tons of plastic waste each year.
"Worse, plastic waste is likely to aggravate pollution and worsen flooding in communities," Villar added.
The measure, she said, aims to improve the responsibility of producers in the design, collection, reuse, recycling, and disposal of their products and packaging.
She said tax perks also await firms that put in place EPR mechanisms. (PNA)