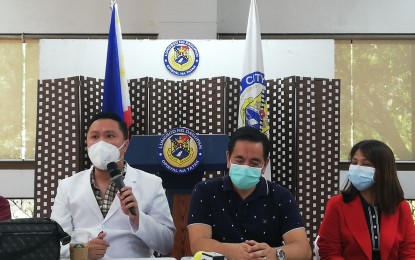 DAGUPAN CITY – The Department of Health Center for Health Development in Ilocos Region (DOH-CHD-1) has belied rumors on social media on the alleged inoculation of expired coronavirus disease 2019 (Covid-19) vaccines here.
In a press conference on Friday, Dr. Amadeo Zarate, DOH-CHD-1 development management officer, maintained that the Covid-19 vaccines issued to Dagupan have a nine-month shelf life as approved by the Food and Drug Administration (FDA).
He said FDA issued a memorandum extending the shelf life of the vaccines from seven months to nine months.
"FDA has the capacity to examine the potency and efficacy of the vaccines and when they found out that the potency and efficacy are still high, then they extended the shelf life," he said.
It was reiterated by DOH-CHD-1 regional pharmacist David Aviles, saying the vaccines have undergone rigid testing and the manufacturer of the particular vaccine being questioned had originally set the expiry date to nine months from its manufacturing date Oct. 23, 2021.
"The FDA prior to the extension has issued an Emergency Use Authorization for seven months shelf life to these batch of vaccines that have an expiry date of May 23. In another trial of the FDA, it was found out that that the batch of the vaccines is still effective within nine months of its manufacturing date. The vaccine will thus expire on July 23," Aviles said.
He assured the recipients that the vaccines are safe and effective.
Dagupan City Health Officer Dr. Dalvie Casilang said they will not administer the vaccine if it was already expired.
"We have a high percentage of vaccine utilization rates in the entire Ilocos Region that the city was actually recognized for being a model in the immunization drive," he said.
He added there were no negative side effects recorded among the recipients of the vaccines.
Casilang and the officials of the DOH-CHD-1 appealed to the public to refrain from sharing misinformation, especially on social media, that might scare the public and become a hurdle in the vaccination efforts of the government.
"If you have the access to complete information and the platform to share the right information, then do so for the good of the public," Casilang said. (PNA)