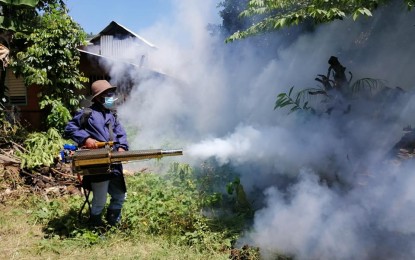 DAGUPAN CITY – Fogging or misting in communities here will be implemented only if increased dengue cases were observed.
The City Health Office (CHO) said Friday indiscriminate fogging is prohibited and will be conducted only in villages with a high number of cases.
CHO officer Dr. Dalvie Casilang said in an interview there are sanitary inspectors in each of the 31 villages who monitor the dengue situation.
"They are the ones who will declare if there is the need to conduct fogging or misting in the barangay," he said.
He explained that indiscriminate fogging will only force mosquitoes to transfer from one area to another.
Casilang said they have turned down requests for fogging or misting.
He said data gathering for dengue cases is ongoing but assured the CHO's readiness year-round.
"We ask the residents to always ensure cleanliness in their surroundings. They should remove anything that might be a breeding area for mosquitoes," he said.
Casilang likewise reminded residents to be vigilant against leptospirosis, which is prevalent during the rainy season due to flooding.
The most common source of leptospirosis infection is contact with infected animal urine or contaminated soil or water. Outbreaks sometimes happen after heavy rain or flooding.
"Wear (rubber) boots if you can't help but go out and submerge your feet in floodwater. Do not self-medicate and seek doctor's advice before taking antibiotics in case your feet were submerged in floodwater," he said. (PNA)