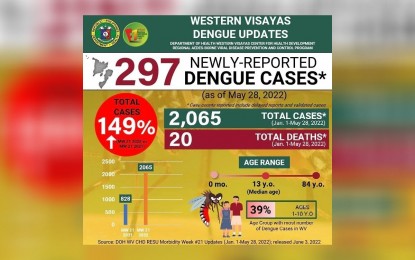 ILOILO CITY – The Department of Health Western Visayas Center for Health Development (DOH WV CHD) has deployed dengue program coordinators as the region reported a 149 percent jump in cases from January to May 28 this year compared with the same period in 2021.
DOH Senior Health Program Officer John Richard Lapascua on Friday said the coordinators consult and help local government units to prevent the rise in dengue cases.
Lapascua also called on the public to observe cleanliness, the number one precaution to prevent the spread of the mosquito-borne disease.
"It is important to make your LGU (local government unit) or barangay clean. Environmental sanitation really is the key to address and prevent mosquitoes from breeding," he said during the virtual briefing hosted by the Office of the Civil Defense (OCD).
Lapascua added that if there is no opportunity for vectors to breed and no chance for people to be bitten by dengue-carrying mosquitoes, then the rise in cases can be addressed.
"Dengue is a viral infection. It is transmitted through mosquitoes, specifically female Aedis aegypti or Aedis albopictus mosquitoes," he said.
Dengue cases in Western Visayas already increased by 149 percent from January to May 28 this year compared with the same period last year with 2,065 and 828 cases, respectively.
There were 20 deaths reported during the first five months of this year.
Further, 39 percent of the cases were children with ages ranging up to 10.
Negros Occidental has the highest cases with 800 and five deaths, which is 357 percent higher compared with the same period last year.
Antique's 518 cases with three deaths recorded a 216 percent increase while Iloilo province's 330 cases with six deaths are equivalent to a 116 percent hike.
Meantime, Aklan province's 63 cases with one death recorded a 125 percent increase; Bacolod City's 139 cases with four deaths soared by 70 percent; Capiz has a 10 percent jump for its 118 cases while the 22 cases of Guimaras was 83 percent more compared with the first five months of 2021.
Among the provinces and highly urbanized cities in Western Visayas, only Iloilo City posted a 30 percent drop with its 75 cases and one death.
Lapascua, aside from emphasizing the need to search and destroy mosquito-breeding places, added that it is important to secure self-protection, seek early medical consultation on early signs and symptoms, and support fogging activities carried out by trained health workers. (PNA)