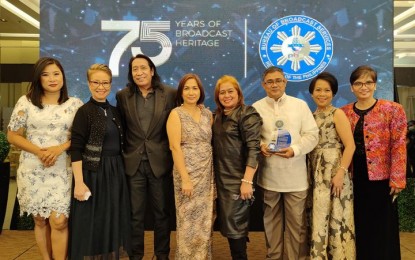 MANILA – President Rodrigo Duterte has enjoined state-owned radio stations to continue setting the "highest" standards of journalism.
In a video message shown during the 75th anniversary of the Philippine Broadcasting Service-Bureau of Broadcast Services (PBS-BBS) held at Sequoia Hotel in Quezon City on Friday night, Duterte reminded of the dissemination of "factual and timely" information to the public.
"It is my sincere hope that you will all continue to uphold the highest standards of journalism and broadcasting as you faithfully disseminate factual and timely information to our countrymen, especially in the most far-flung areas in the country," Duterte said.
Duterte also lauded the PBS-BBS, an attached agency of the Presidential Communications Operations Office (PCOO), for improving its service during his watch.
He expressed gratitude to government-run radio stations for keeping the Filipino people updated about his administration's efforts to bring change and development.
"As the state's radio network, you have the important duty of ensuring that the public is aware of the events happening around us and of government's efforts to improve the (lives) and promote the welfare of the Filipino people," he said. "In the last six years, PBS has improved and progressed by leaps and bounds."
Currently, PBS-BBS owns and operates radio stations nationwide, with dzRB Radyo ng Bayan Manila as the flagship station.
The PCOO on Tuesday received the last batch of broadcast equipment donated by China under the Duterte administration.
Since 2019, China has donated several radio and information technology (IT) equipment to the PCOO in a bid to boost and revive the government media, as well as its broadcast and communications services.
China has so far donated a total of PHP140 million worth of radio and broadcasting equipment and PHP15 million worth of IT equipment to the PCOO. (PNA)