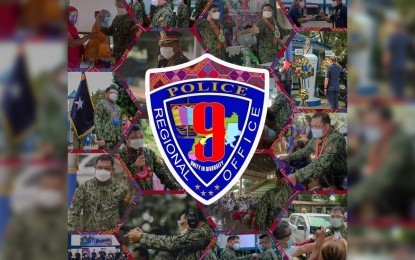 ZAMBOANGA CITY – The Police Regional Office-9 (PRO-9) arrested 12 suspects and seized PHP703,100 worth of illegal drugs in separate anti-drug operations the past week at the Zamboanga Peninsula.
The biggest illegal drug haul intercepted by the Zamboanga Sibugay Police Office happened on Wednesday, with lone suspect Abdulganih Inting arrested with some 75 grams of suspected shabu worth PHP510,000 in Putok Gaway-Gaway, Barangay Buluan, Ipil.
Col. Albert Larubis, Zamboanga Sibugay police director, said the 48-year-old Inting is a high-value target who also yielded 180 pieces of PHP1,000 bills and 59 pieces of PHP500 bills, all boodle money topped with one genuine PHP500 marked bill.
Col. Alexander Lorenzo, Zamboanga City Police Office director, meanwhile reported that Alnaser Abdul, 25, a street-level drug peddler, was nabbed with PHP13,600 worth of suspected shabu along Johnston Street in Barangay Canelar here on June 6
Another suspect Rolando Dais, 39, was caught in possession of PHP34,000 worth of suspected shabu on June 7 in Barangay Kasanyangan here.
Maj. Shellamie Chang, PRO-9 information officer, said the other arrested suspects on June 7 were Harvey Ibrahim Tampalan, 30, in Barangay Poblacion, Siocon, Zamboanga del Norte, with PHP20,400 worth of suspected shabu; Jerry Bangquiao, 31, in Barangay Galas, Dipolog City, Zamboanga del Norte, with PHP13,600 worth of suspected shabu; and Joelito Sanchez, 42, in Barangay Compra, Liloy, Zamboanga del Norte, with PHP27,200 worth of suspected shabu.
The rest of the operations conducted from June 8 to 10 worth P84,300 were in Diplahan, Zamboanga Sibugay, 1 suspect; Barangay Dao, Pagadian City, 2 supects; Sitio Asinan, Barangay Kasanyangan, Zamboanga City, 1 suspect; Purok Calachuchi, Barangay Guinles, Polanco, Zamboanga del Norte, 1 suspect; and Martha Drive, Barangay Sta. Catalina, Zamboanga City, 1 suspect. (PNA)