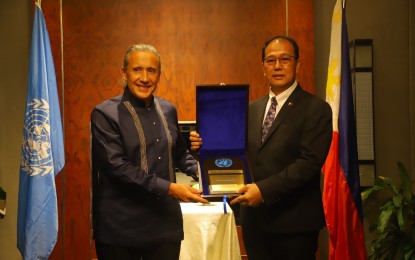 MANILA – The United Nations (UN) honored Presidential Adviser on Peace, Reconciliation, and Unity (PAPRU), Secretary Carlito Galvez Jr., for his "commitment and professionalism" in pursuing peace-building initiatives in the country.
UN Resident Coordinator in the Philippines, Gustavo González, said the Philippine government has "scored an important number of achievements" and "achieved major milestones" in pushing for a genuine peace process.
"[We are] looking forward to our continued close collaboration with the Government of the Philippines, and we hope that the collective investment made in peace and reconciliation will be nourished and expanded by the new administration," González said as he presented a plaque of recognition to Galvez on Wednesday at the Makati Diamond Residences for "major contributions to the comprehensive Philippine peace process."
The UN agency invited the ambassadors of Australia, Canada, Norway, France, Japan, and the European Union to the cocktail reception in honor of Galvez.
According to an OPAPRU statement released Saturday, González cited how Galvez's leadership pushed for the strengthening of the role of women and the youth in the peace process, conflict transformation, and the protection of human rights," which are deemed crucial for securing sustainable peace.
Galvez urged the next administration to fully support the gains of the peace process achieved under the tutelage of President Rodrigo Duterte.
"We would like to call on our international partners to provide the incoming administration with the same level of support you have given to the Duterte administration, as we continue to lay the foundation for genuine peace and sustainable development," he said in a statement.
Galvez thanked the UN and other international development partners of the government for their invaluable contribution to strengthening the Philippine peace process.
"The United Nations and its attached agencies are among the longest and most active partners of the OPAPRU in carrying out its mandate of managing, directing, integrating, and supervising the implementation of the comprehensive peace process, including initiatives that promote and reinforce national reconciliation and unity," he said.
Galvez assured the OPAPRU is committed "to continue what it has started".
"Even as we transition to the new administration, I would like to assure the UN, its attached agencies, and all International Peace Partners present, the OPAPRU is committed to implementing all signed agreements, including all efforts in promoting and reinforcing National Reconciliation and Unity," he said.
Galvez also hopes that the international community will support President-elect Ferdinand Marcos, Jr.'s administration priorities including agricultural and food security; climate change adaptation; economic recovery; improved health care and education; enhanced infrastructure projects, including digital infrastructure; utilization of renewable energy sources; strengthened tourism and jobs reaction; and sustainable development.
Foreign Affairs Secretary Teodoro Locsin has previously lauded Galvez's key role in the liberation of Marawi in 2017 when he was still commander of the Western Mindanao Command and leadership in the implementation of pandemic response efforts.
"When he [Galvez] was appointed to fight Covid, well, the outcome is a foregone conclusion and I can say we had a victory on that front," Locsin said. (PNA)