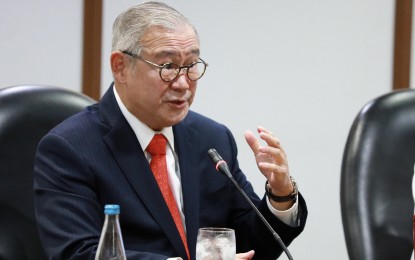 MANILA – The Philippines is planning to establish an embassy in Ukraine.
Foreign Affairs Secretary Teodoro Locsin Jr. on Saturday said "brave Ukraine deserves more than a nonresident embassy in a neighboring country," referring to the Philippine Embassy in Warsaw that currently holds jurisdiction over Filipinos in the war-torn state.
"I'm setting up a Philippine Embassy of its own in Ukraine but can't keep my promise to be physically present in Kyiv," he said.
"All Ukraine is a no-fly zone; 19-hour train service is irregular depending on hostilities. That a heart is with you means nothing if not there to share peril," he added.
No further details have been provided yet as of this writing, but the Department of Foreign Affairs said the opening of a new post will go through a process within the agency.
Locsin's announcement follows his recent meeting with Ukraine Deputy Foreign Minister Dmytro Senik. In their June 9 meeting in Manila, Senik also invited the Filipino top diplomat to visit Ukraine.
"Enjoyed candid discussion with Foreign Secretary (Teodoro Locsin Jr.) about prospects of our bilateral relations, economic cooperation and Russia's war against Ukraine. Glad we are on the same page. Invited to visit Ukraine," Senik said in a tweet. (PNA)