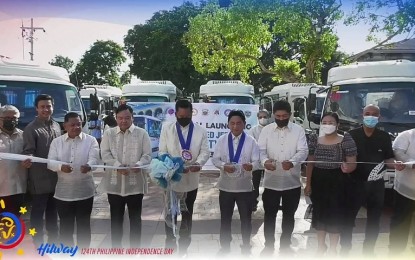 ILOILO CITY – This city launched on Sunday its modernized public transport system as one of the activities to mark the 124th celebration of the Philippine Independence Day here.
Guided by its Local Public Transport Route Plan (LPTRP), an initial 77 of the 1,767 modernized jeepneys approved by the Land Transportation Franchising and Regulatory Board (LTFRB) will initially be plying the 24 routes composed of 17 rationalized and seven new opened routes effective June 12.
Traditional jeepneys, however, are still allowed to ply as the target modernized units are yet to come in.
"Iloilo City is the first highly urbanized city in the country to launch this expansive program and all of us cannot but feel proud. Already we are rising towards the challenge of new beginnings," said LTFRB regional director Richard Osmeña, the guest speaker during the Independence Day celebration held at the historic Plaza Libertad in front of the Iloilo City hall.
Osmeña said the implementation of the LPTRP is a major stage in the public utility vehicle modernization program implemented by the Department of Transportation (DOTr) as the lead agency, together with the Land Transportation Office and the LTFRB.
"With the program implemented in conjunction with its Comprehensive Land Use Plan, we expect to achieve the rationalization and modernization of public land transport in Iloilo City which will enhance its development," he added.
In his briefing, LTFRB legal officer Salvador Altura said that under the Public Motor Vehicle Modernization Program, local government units were directed to prepare their LPTRP, which has to be approved by the LTFRB prior to its adoption as an ordinance by local legislative bodies.
The DOTr approved the city's LPTRP in November 2021 and the Sangguniang Panlungsod adopted it in January this year.
"A salient feature of the LPTRP is the determination of the so-called number of authorized units routes in consideration of many factors; among which are the passenger density of the route, and the convenience, economy, safety, and speed of travel of commuters," Altura said.
The route plan also limited the entry of provincial jeepneys to the city up only to the functional boundary terminals.
In a separate interview, Public Safety and Transportation Management Office (PSTMO) head Jeck Conlu said there will be a joint monitoring team that will look into the implementation of the LPTRP while local government units under the Metro Iloilo Guimaras Economic Development Council (MIGEDC) will have help desks in terminals to guide commuters.
"The LPTRP team is willing to make adjustments when necessary," he said.
The Iloilo provincial government will also deploy its five multipurpose civil defense trucks and two coasters in perimeter boundary terminals in Mohon, Arevalo; Ungka, Jaro, Pavia and Tagbak that will provide transportation to stranded commuters. (PNA)