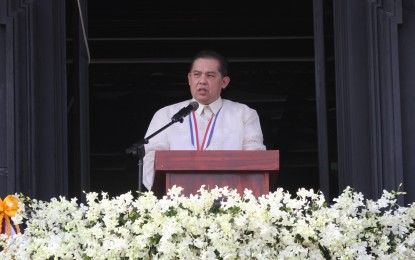 MANILA – As the country commemorates its 124th Independence Day, House Majority Leader Martin Romualdez on Sunday said now is the time to set aside politics and work together toward building a "strong nation founded on freedom, justice, and democracy".
Romualdez called on all allies and foes to heed the call of unity by the incoming administration of President-elect Ferdinand "Bongbong" Marcos Jr. and encourage fellow Filipinos to link arms for nation-building.
"Mabigat ang hamon sa ating lahat (We have a difficult challenge ahead of us). We have been polarized as a nation due to political differences. Even families were torn apart by loyalties to opposing candidates in the last elections. The 'cancel culture' has reached our shores and wrought havoc on relationships among friends," Romualdez said in a speech during an Independence Day celebration in Kawit, Cavite.
Romualdez said a new set of leaders are set to assume on July 1, as he urged the public to support them to help the Filipino nation "rise again".
"Mga kababayan, harapin po natin ang hamon ng kabayanihan (My fellow Filipinos, let us face the challenge of heroism). Let us face these challenges with heads up high and with strong conviction to secure our victory. Be heroes in our own little way. Each one of us has a great role to play in making this nation great again," he said.
He urged Filipinos to protect the gains of independence by working hard to move the country forward as a way to honor the memory of Filipino heroes.
"As we celebrate the birth of our nation today, we also pay tribute to the heroism of our fellowmen who shed blood to secure the freedom that we enjoy at the moment. Dahil sa kanilang kabayanihan, payapa nating nakakasama ang ating mga pamilya at mahal sa buhay (Because of their bravery, we are now enjoying the peace with our families and loved ones). We continue to enjoy the fruits of our labor, and we remain at peace with our neighbors," Romualdez said.
It was on June 12, 1898, that General Emilio Aguinaldo, head of the Philippine revolutionary government, declared the country's independence from Spanish rule.
The country's ninth President Diosdado Macapagal proclaimed June 12 a public holiday in 1962. (PNA)