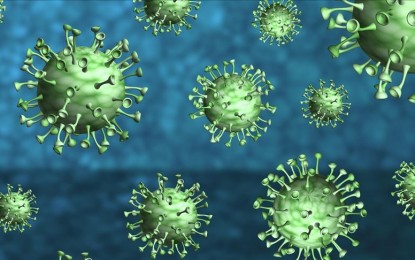 MANILA – The Quezon City local government raised its Covid-19 early warning level to "yellow" status after it recorded an average of 26 cases per day the past week.
According to the QC Epidemiology and Disease Surveillance Unit (QCESU) on Sunday, aside from the jump in average daily cases, two other indicators were also observed as of June 9.
The average positivity rate doubled to 3.10 percent from 1.50 percent from May 27 to June 2.
In addition, the estimated reproduction number climbed to 3.4 percent from 1.1 percent last week.
QCESU chief Dr. Rolando Cruz said in a news release that there is a possibility that cases will spike further within the next two weeks under the current yellow status.
Cruz said their locally developed monitoring system is used for internal reporting only and should not be confused with the official alert levels issued by the Inter-Agency Task Force for the Management of Emerging Infectious Diseases (IATF).
Under QC's system, the white status is raised when Covid-19 cases are below average and all data indicators are considered stable. No surge of cases is expected in the next 14 days; yellow when cases are seen increasing compared to the previous week and when three of four indicators have increased from normal to above normal. There is a possibility of a surge within the next 14 days; and red when cases continue to rise and all other indicators remain high or have breached the indicated threshold. This indicates the start of a surge.
"Our local early warning system is helpful in assessing the pandemic within our city only. It aids our department as well as our city officials in the systematic monitoring of new cases, analysis of trends, and recommendation of strategic measures to prevent the further spread of infections. Official alert level announcements and general guidelines will still come from the IATF," Cruz said.
As of this writing, Quezon City remains under Alert Level 1 according to the IATF, and is classified as "low risk" by the Department of Health.
Mayor Joy Belmonte reminded citizens to continue observing preventive measures such as wearing of masks as well as getting vaccinated and boosted.
"We have come a long way but the virus is still with us. Again, we call on our residents to remain vigilant," Belmonte said in a statement.
She called on those who have yet to get their COVID-19 vaccine or booster shot to do so by visiting the nearest barangay health center or by registering online via https://qceservices.quezoncity.gov.ph/qcvaxeasy.
In April, the city government rolled out the second booster shots of Covid-19 vaccines for immunocompromised adults, senior citizens, and health care workers.
As of June 4, the city has 123 active Covid-19 infections while as of June 10, a total of 2,472,573 are already fully vaccinated -- 926,037 of them with either the first or second booster shots. (PR)