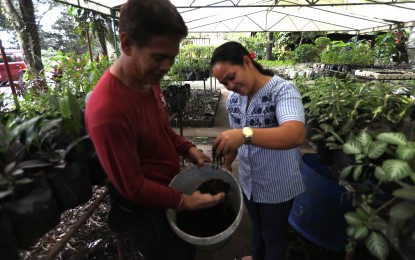 MANILA – Composting and the use of organic fertilizers are better agriculture practices for the protection of the soil, Senator Cynthia Villar said on Monday.
Villar pointed out that bad practices reduce nutrients in the soil, resulting in at least 38-percent degradation.
In a video message during the 71st anniversary of the Bureau of Soils and Waste Management (BSWM), Villar underscored the need to produce organic fertilizer from agricultural residues like rice straw, corn stover, animal manure, among others, to replace inorganic, synthetic or chemical fertilizers.
It is important that the soil be taken care of to have a productive harvest and lower hunger, and food insecurity in the country, she added.
"You are one with us in actively promoting organic farming methods, especially producing organic fertilizer," Villar, chair of the Committee on Agriculture and Food, told the BSWM.
Villar said biodegradable items, like kitchen and garden wastes, can be transformed into useful things while emphasizing the need to have facilities for them near farms, trading posts, and markets.
The senator said she has pushed for the establishment of 117 composting facilities nationwide, 67 of them found in her hometown in Las Piñas.
Villar said Republic Act 10068 or the Organic Agriculture Act, which was passed into law in 2010, must be realized.
"I always need to remind myself of the BSWM because it is important that we give Composting Facilities for Biodegradable Waste to our farmers and local government in the whole country. I hope you would do this, particularly now that chemical fertilizers are so costly," she said.
During the same event, Department of Agriculture (DA) Secretary William Dar said the main source of food production comes from healthy soil and ensuring the sustainable management of soil and water resources is critical.
With the increase in prices of agricultural inputs, Dar said the DA widely advocates for a balanced fertilization strategy or the combination of the use of chemical fertilizer, organic fertilizer, and biofertilizer.
"If not properly attended to, then this [food crisis] may happen right here in our footsteps. But we still have time to make it possible that we don't have this kind of situation in the country and that's why we have set forth the balance fertilization strategy in place," Dar said. (PNA)