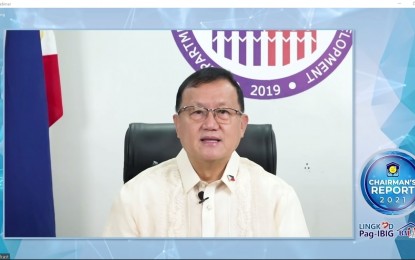 MANILA – The Department of Human Settlements and Urban Development (DHSUD) achieved the highest production since 1975 and forged partnerships with local government units (LGUs) and private developers to boost the country's disaster preparedness in just three years since its creation.
As the Duterte administration's term comes to an end on June 30, DHSUD Secretary Eduardo del Rosario is more than confident that the agency's hard work will not go to waste and will be continued by the incoming leadership.
"We must continuously innovate to ensure that our vision to be a strong institution and catalyst for the provision of adequate and affordable housing, inclusive human settlements and well-planned communities for every Filipino family comes to light," he said in his report on Monday.
He believes that the housing sector remains in good hands under the staying officials of DHSUD, working tirelessly to fulfill their duties.
He advised the next housing chief to "always serve with passion".
"Your mind and your heart must focus on the welfare of the Filipino families who do not have houses of their own," del Rosario said.
Del Rosario said in their short stay, the agency made a huge impact in the housing industry "despite dealing with some birth pains and amidst the Covid-19 pandemic".
"Quite grateful to the President for giving me this opportunity to serve the housing sector and I am satisfied with the performance of our people," Del Rosario said.
"The President is very outstanding, has excellent leadership. I cannot ask for more as a subordinate. He gives all of his trust and confidence in us, and not even once will he call your attention if what you do is right, and he expects results," he added.
Created in February 2019, DSHUD has crafted the 2040 National Housing and Urban Development Sector Plan, which consolidates ongoing and proposed strategies, plans, and programs of the department, its key shelter agencies (KSAs), and other stakeholders in providing Filipino families, especially the underprivileged, access to decent, safe, sustainable and affordable homes.
At the height of the pandemic, DHSUD imposed a series of moratoriums on loan payments to KSAs and ensured the continuity of housing projects, allowing thousands of workers to continue their livelihood.
The DHSUD's most notable legacy is its annual housing production pegged at 197,886 -- the highest since 1975.
Del Rosario noted that all housing units produced during the Duterte administration "were of high standards".
Further, more than 1.08 million housing units and lots were produced and financed by the end of 2021, accounting for 86 percent of the 1.26-million units targeted under the Philippine Development Plan 2016-2022.
DHSUD assisted 233 LGUs in updating and ratifying their Comprehensive Land Use Plans and Provincial Development and Physical Framework plans and signed deals to build evacuation centers to boost disaster preparedness, particularly in areas prone to natural disasters and other calamities.
"Finalizing these key pacts indicates the government's devotion in promoting effective land utilization towards ensuring national progress without causing harm to the environment," Del Rosario said.
The DHSUD also pushed for real estate development policies and issued directives "to cushion the impact of the pandemic" by issuing 1,437 Licenses to Sell and Certificates of Registration to a total of 36,624 registered dealers, brokers, and salespersons in the last two years, while 25,621 registered homeowners associations nationwide are getting the agency's assistance.
In advancing overall operationalization, DHSUD filled up 65.46 percent of its workforce; crafted and submitted funding for its Information Systems Strategic Plan; and completed the establishment of 16 regional offices. (PNA)