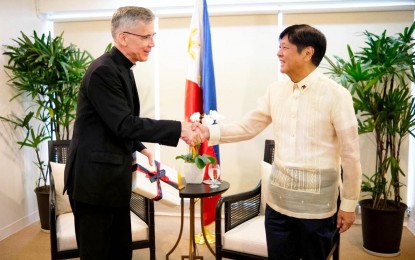 MANILA – President-elect Ferdinand "Bongbong" Marcos Jr. vowed to work with the Catholic church, the Vatican's representative to Manila said on Monday.
"We had a very productive, encouraging, and positive discussion and the President-elect assured me of his desire to collaborate, cooperate closely with the church and Holy See," Papal Nuncio to the Philippines Archbishop Charles John Brown said in an interview over Church-run Radio Veritas.
Brown was among the other five other representatives from other countries who visited the incoming President at the BBM headquarters in Mandaluyong City on June 10.
Earlier, the Catholic church ensured continued interaction with the government for the benefit of every citizen.
Caritas Philippines National director, Kidapawan Bishop Jose Colin Bagaforo said they will work with the new administration on a program that will address the rights and dignity of the people and promote truth and honest governance.
The church is also praying for the administration of Marcos to be of true service based on justice and upholding the dignity of the people.
Marcos was elected as the 17th Philippine president, garnering over 31 million votes in the May 9 polls.
He will officially start his six-year term on June 30. (PNA)