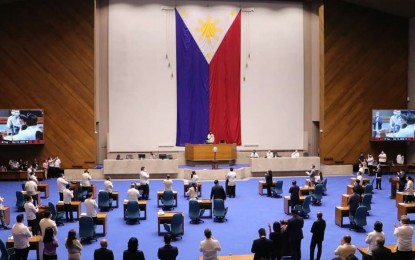 MANILA – The 18th Congress has passed a total of 311 measures that received President Rodrigo Duterte's signature and were enacted into law, a House leader reported on Monday.
According to the House accomplishment report, House Majority Leader Martin Romualdez said 119 of the laws were national in scope, while 192 were local.
He noted that a number of laws enacted were specifically crafted to address the ill-effects brought by the coronavirus disease (Covid-19) pandemic, the most significant of which were the Bayanihan 1 and 2 laws, which allowed the release of billions of pesos to fight the pandemic and protect the citizenry.
"While almost everybody was forced to stay in their homes for safety during the community quarantine, House Members, officials and employees went out of their way to report for work and perform their duties diligently," he said.
During the three-year run of the 18th Congress from July 22, 2019 to June 3, 2022, Romualdez said House members filed a total of 13,526 measures, including 2,681 resolutions.
A total of 1,618 measures were approved by the House of Representatives from July 2019 to June 2022 under the leaderships of former Speaker Alan Peter Cayetano and outgoing Speaker Lord Allan Velasco.
Another 759 measures were passed on third and final reading during the 18th Congress, while another 13 bills were approved on second reading, he added.
Romualdez said the filing of 1,497 committee reports showed how active the House committees were even during the pandemic when the lawmakers had to make do with virtual or digital processes instead of traditional face-to-face meetings.
Romualdez, who is poised to become the next Speaker in the 19th Congress, said he looks forward to working in a post-pandemic setting in to put forward "our 100 percent effort" in helping the country rise from the pandemic's effects together with the incoming administration of President-elect Ferdinand "Bongbong" Marcos Jr.
"The Marcos administration is fully aware of this humongous challenge," Romualdez said. "The answer, as ably demonstrated by the 18th Congress, is unity, perseverance, and compassion." (PNA)