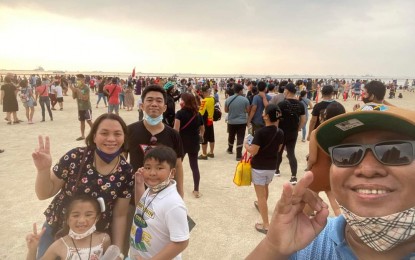 MANILA – After three and a half years, the familiar stretch of the Manila Bay, which used to be infamous for its foul smell and garbage-filled shore, is now gradually finding its way back to its former glory.
Through the joint effort of various government agencies, the Manila Bay dolomite beach was reopened to the public on Sunday (June 12).
Rodney Maranan, 40, a father of two and IT by profession, has shared how wonderful their Independence Day celebration has been by visiting the dolomite beach.
He said he, his wife, and two kids, as well as another relative, have traveled from Cavite, looking forward to personally seeing the site as early as March.
"We found on Facebook that they are planning to reopen it this June 12. We only had glimpses whenever we traveled to Manila. Lagi kami napapaisip ano ba itsura nya sa loob? kung beach-feel din ba siya? Ano texture ng dolomite sand (We always wonder how it looks inside, does it feel like you're on a beach? What is the texture of dolomite sand?). We only see pics of people who luckily had their chance to get there before it was locked down for the public," he told the Philippine News Agency.
Maranan can't help but appreciate how the site has improved, saying that they still pushed through with their plan to visit the site well into the afternoon, even if it rained in the morning.
"The place is so awesome. We never expected that they could turn this dirty Manila bayside into a paradise. It feels like you are really on the beach. People are sitting, enjoying the sand, watching the sunset," he said.
Not only did the family enjoy the view, but their two kids immediately found themselves frolicking in their sandy playground.
"We also noticed newly built public restrooms along the baywalk though it was closed. Also the artillery heritage cannon was there. Huge cannon from WW2 (World War 2). It was for decommissioning but decided to use as an ornament and did a great part along the baywalk," he added.
Relaxing dolomite beach
Maranan said the Manila Bay has now become a place fit for relaxation.
He then expressed his hopes that his fellow Filipinos and other visitors would share responsibility in keeping the beach clean.
"Please try to visit Manila's Dolomite Beach. Not just an instagrammable place but a good place to relax and unwind. [However] please, keep it clean," he said.
Besides his encouragement, he also expressed gratefulness for this administration's legacy, going beyond the current term.
"To our President Rodrigo Duterte, Thank you so much for all the infrastructures, for the services, for our country's security, for all the help. You made all your promises since Day 1," he said.
The Department of Environment and Natural Resources (DENR), meanwhile, took pride in the joint efforts of all agencies, as well as various groups, to successfully revitalize the beauty of the Manila Bay.
"The bay was full of garbage and ships, up to the shore, and the sea breeze smelled foul, like the septic tank, more than that maybe, the bay has become, now the breeze is refreshing the bay is much cleaner, and we have this beach, helping restore the bay and its shoreline to its historic glory," DENR acting Secretary Jim Sampulna said in the Manila dolomite beach inauguration.
Sampulna assured visitors that the Manila dolomite beach is safe and free for public viewing.
"By now, contrary to the earlier claims of critics, it should be clear that dolomite sand is not harmful to people and natural ecosystems, dolomite is widely used for beach nourishment in many countries such as Singapore, France, Portugal, South Korea, the United Arab Emirates, and the United States of America," he said.
He added that the Department of Public Works and Highways was able to dredge more than 272,000 cubic meters of waste materials including rubber tires, rotting furniture, and appliances, among others.
To date, the DENR has recorded around 900 most probable numbers (mpn) of coliform bacteria, significantly lower than the millions of MPN recorded before its rehabilitation.
"Eventually, this will be swimmable. That's what is lacking, we can't say that we have completely accomplished [the rehabilitation], as what the Supreme Court has said, 'make this swimmable', for now, we can only visit it… This is a very big challenge to Secretary Sampulna, or whoever will be the next secretary, for the dolomite beach to be swimmable," former DENR Secretary Roy Cimatu said.
For the bay to be fit for bathing, fishing, and boating, fecal coliform levels should drop to 100 mpn.
For now, the public may enjoy walking and picture-taking in the area from 6 a.m. to 6 p.m., at a maximum capacity of 3,000 individuals at a time. (PNA)