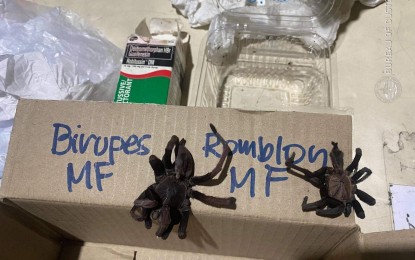 MANILA – The Bureau of Customs (BOC) – Port of Ninoy Aquino International Airport (BOC-NAIA) on Monday reported the interception of 198 various species of tarantulas misdeclared as thermal mugs in Pasay City.
In a statement, the port said the outbound shipment was about to be sent by a sender from Pasay City to a recipient in Italy when it was intercepted by officers at the BOC-DHL Express warehouse on June 7.
The package was subjected to X-ray and 100 percent physical examination which led to the discovery of the live animals of different sizes that do not have the necessary permits.
It was examined by the Customs Examiner from the NAIA Export Division, with the presence of representatives from the X-ray Inspection Project, Enforcement and Security Service, Customs Anti-Illegal Drugs Task Force, Customs Intelligence and Investigation Service, DHL Express, and Environmental Protection and Compliance Division.
The seized tarantulas shall be the subject of corresponding seizure and forfeiture proceedings for violation of Sections 117 and 1113 of the Republic Act 10863 or the Customs Modernization and Tariff Act in relation to RA 9147 or the Wildlife Resources Conservation and Protection Act.
The tarantulas were immediately turned over to the Wildlife Enforcement Officer of the Department of Environment and Natural Resources for proper handling and monitoring pursuant to Customs Administrative Order No. 10-2020.
Meanwhile, the BOC, through the Customs Intelligence and Investigation Service-Intellectual Property Rights Division (CIIS-IPRD), CIIS-Port of Clark, and the Port of Manila (POM), seized counterfeit goods with an estimated value of PHP129 million in Pampanga on June 9.
Armed with Letters of Authority (LOA) issued by Commissioner Rey Leonardo Guerrero, the implementing team inspected the warehouses at Golden Sun 999 Industrial Park, Barangay Dela Paz, in the town of San Simon where they found goods bearing brand names such as Louis Vuitton, Paul Frank, Adidas, Hello Kitty, Spider Man, among others.
The raid also yielded assorted products such as dishwashing liquids and motorcycle lubricants.
BOC examiners, in the presence of CIIS personnel, Louis Vuitton brand representatives, and soldiers, conducted an initial inventory of the items before sealing the subject warehouses.
The implementing team has informed the representatives of the warehouses and containers to provide importation documents and other pertinent permits covering all goods found at the warehouse.
Further investigation is also underway for other possible violations of the Intellectual Property Code of the Philippines (RA 8293) and the Customs Modernization and Tariff Act (RA 10863). (PNA)