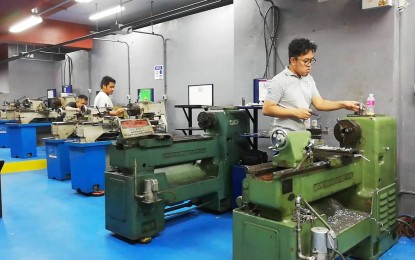 MANILA – A lawmaker on Monday proposed a refocusing of the skills training programs of the Technical Education and Skills Development Authority (TESDA) to align with the job generation targets of the incoming administration of President-elect Ferdinand Marcos Jr.
Quezon City Rep. Alfred Vargas said skills mismatch remains a problem in the country, emphasizing the need to align the needs of key industries that are crucial to economic recovery like manufacturing, agriculture, and tourism with the level of skills and training of workers.
"These industries are important to the incoming administration's goal of addressing the unemployment and underemployment problems caused by the pandemic and revitalizing the economy," Vargas said in a statement.
He said the gap can be sealed by bringing together the labor market, education stakeholders, and local government units (LGUs) through skills training partnerships.
These partnerships should not only provide guidance on the needs of particular industries but also on-the-job training for students and guaranteed employment, he noted.
"With the economy opening up, we have more Filipinos looking for work but may not have the skills needed by employers. Through multi-sectoral partnerships at the level of LGUs, we can identify the needed skills at the local level, retool the training programs, and provide immediate employment," he said.
He said LGUs and small tourism establishments in the provinces categorized as micro, small, and medium enterprises (MSMEs) would benefit from these partnerships, as these businesses have been affected by the pandemic, particularly with the imposition of travel restrictions.
"With more tourism establishments resuming operations or opening for business, we need to ensure that they have skilled staff to meet the growing demands," he added.
To date, TESDA offers tourism course programs for LGUs, where successful graduates are deemed qualified to work as tourist information officers, travel advisers, and concierge agents. The agency also offers courses for tour operations, reservations, ticketing, and travel documentation.
Through its online training program, TESDA offers courses in tourism-related skills such as bread and pastry making, cookery, food and beverage services, front office services, and housekeeping.
Vargas cited that a total of 23,818 overseas Filipino workers (OFWs) or their dependents enrolled in these courses from March to December 2020.
He also highlighted the need to introduce measures that will synchronize TESDA's programs with the tourism sector's needs to catalyze post-pandemic economic recovery.
"With the appointment of Tourism Secretary Christina Frasco, we are confident that the tourism industry's recovery will accelerate all over the country. A whole-of-government approach to support Secretary Frasco's vision will be indispensable and TESDA and other government agencies have valuable roles to play in realizing our common goal of prosperity for our fellow Filipinos in the tourism sector," Vargas said.
During the election campaign period, Marcos said addressing problems hounding the labor sector to ensure better labor conditions for the country's workforce shall be among his priorities if he gets elected as President.
While he supports the creation of a separate department for migrant workers, Marcos said all the other agencies that deal with the labor sector should be streamlined.
"I will have to put the layout in detail because the issue has become so involved. Maraming dapat ayusin, structurally maraming dapat ayusin. Dapat i-streamline ang mga agencies, dahil masyado nang marami [ang mga opisina], ang mga workers natin, nalilito kung saan sila dapat lumapit (Structurally, there are many things to fix. Agencies should be streamlined because there are too many of them that confuse our workers where to go)," he said.
In line with his aim of ensuring better labor conditions for workers, Marcos also expressed interest in making into a priority bill the Security of Tenure Act, which aims at amending the Labor Code to further protect workers' rights by prohibiting labor-only contracting in the private sector. (PNA)