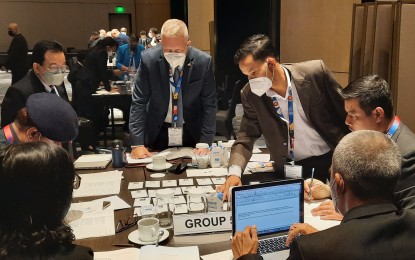 MANILA – The Philippine government is hosting the Asean Regional Forum (ARF) exercise on responding to chemical, biological, radiological and nuclear (CBRN) events, with a special focus on biological incidents.
"It has been predicted that the world's next big challenges will not come from traditional security issues among states. It cannot be better illustrated than by the Covid-19 pandemic that brought the whole world to a screeching halt," Foreign Affairs Assistant Secretary Daniel Espiritu said in a joint presser on Monday.
"This exercise highlights one of the key takeaways from the harrowing experience of Covid -- that we all must be prepared for the occurrence of a public health emergency," he added.
The tabletop exercise, co-chaired by South Korea and the United States from June 13 to 15, aims to help identify the collective and individual gaps among the 27-member group from monitoring, identification, and coordination down to responding to a CBRN incident.
The initiative will also help craft a comprehensive manual within the ARF, involving all stages of the threats and standard operating procedures that need to be adopted in a certain scenario.
"The moment we are able to identify the gaps, I'm sure that sooner or later the different ARF working groups will also come up with future meetings to address them," he said.
Espiritu said the three-day exercise will also try to cover potential CBRN situations beyond biological emergencies. This as he stressed the need to prepare for "everything".
"We have to be thankful that since the end of the first world war, nobody has used supposedly chemical weapons in a major conflict but they have been used in small conflicts," he shared.
'Threats increased'
Deputy Assistant Secretary Kathryn Insley of the US State Department's nonproliferation program agreed that "threats have only increased" in the past several years.
"We have nuclear facilities actively under attack as well as chemical facilities just for the past week. The pandemic necessitated the construction of a large number of labs that were required to handle pathogens, including pathogens that can be weaponized," she enumerated.
"We also have emerging technologies, things like artificial intelligence, hypersonics, quantum computing, and other technologies that could be used for nefarious purposes," she added.
Apart from this, disinformation worldwide had likewise threatened to undermine key international nonproliferation agreements, she said.
"From my perspective, from the US perspective, engagements like this are more important than ever," she said.
South Korean Embassy Consul General Lee Kyoo-Ho, for his part, vowed that Seoul will continue to be part of global efforts to deal with existing and emerging health security issues.
"The ever-growing global scale threat requires global coordination. Korea continues to be part of the global efforts to deal with global health security issues," he said.
"Not only policy-level engagement but also technical level engagements are critical," he added.
Around 90 participants from 15 ARF members and the United Nations joined the three-day event, according to the Department of Foreign Affairs. (PNA)