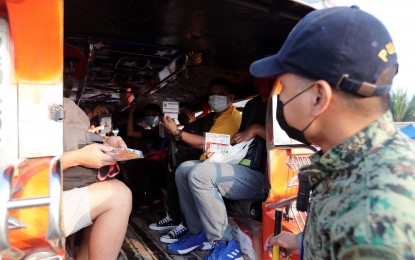 MANILA – A lawmaker on Monday said a coronavirus alert level increase will worsen the food situation for around 640,000 households in the National Capital Region (NCR) and could bring them below the hunger line.
Albay Rep. Joey Salceda made the statement after the Department of Health announced on Monday that the NCR could once again be placed under tighter restrictions of Alert Level 2 if Covid-19 cases continue to increase.
Salceda also noted that every week of lockdown in NCR costs workers around PHP1.6 billion in salaries.
"If they have no plan for how to replace the nutrition, non-Covid health, and welfare losses from that, then we should be more circumspect about declaring alert levels," Salceda told reporters in a message. "At this point, the alert level system, which is primarily based on the number of Covid-19 cases, no longer makes sense from a healthcare point of view. Cases will always be there, so we have to measure our ability to live with the cases."
He cited that Executive Order No. 166, s. 2022, already prescribes to use more useful and empowering metrics for decision-making on Covid-19 and it explicitly instructs that both total and severe cases, case fatality, and vaccination rates should be used for decisions on restrictions.
"I don't understand this talk that a rise in cases might necessitate a higher alert level.
That EO is already the law. So, we should be changing paradigms," he said.
He said more people died of non-Covid-19 caused than the Covid-19 itself "perhaps due to the economic effects" with around 74,000 deaths that were Covid-19 related in 2021, while total deaths, year-on-year, grew by 154,562.
"An early lockdown would have worked. But lockdowns at this late stage of the pandemic, especially now that people have learned to live with it, would be counterproductive both health-wise and economy-wise," he said.
Department of Health (DOH) Undersecretary Maria Rosario Vergeire said the possibility of escalation of alert levels is dependent on the metrics of the Inter-Agency Task Force for the Management of Emerging Infectious Diseases (IATF-EID).
Vergeire said the alert level will be escalated to Level 2 in the National Capital Region if cases and hospital admissions will increase.
"As long as the admissions and severity of cases in the hospitals do not affect our health care utilization rate, Alert Level 1 is still in effect," the DOH said. "But, we have to be mindful that continuing increases in the cases might lead to escalation of the Alert Level." (PNA)