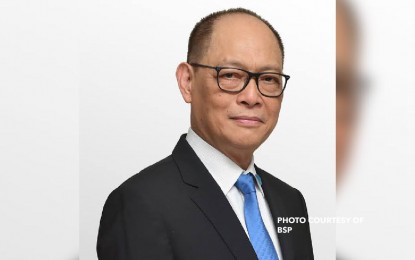 MANILA – Asset quality of the Philippine banking system is seen to strengthen further as market conditions improve, Bangko Sentral ng Pilipinas (BSP) Governor Benjamin Diokno said on Monday.
In a virtual briefing, Diokno said total assets of the universal and commercial banks (U/KBs) rose by 8.2 percent year-on-year as of end-April this year.
"The BSP expects further improvement, not deterioration, in the banking system's asset quality in view of favorable market conditions, easing restrictions, and positive consumer and business sentiment," he said.
He said U/KBs remained the prime mover of the country's banking system, with the loans it extended accounted for around 93.6 percent of the total; investing at 96.3 percent; and deposit-taking activities at 94.1 percent as of end-April this year.
He said the country's financial system continues to be bank-centric since the banking sector accounts for about 82.7 percent of the financial system's resources as of the first quarter this year.
He said more than half of U/KBs total assets are in the form of loans, net of allowance for credit losses, and followed by investment portfolios and cash as well as those due from banks.
"For 2022, we are seeing that the NPL (non-performing loan) ratio of banks will remain in single digit in line with the insights gathered from the industry," he said.
BSP data show that as of end-April this year, the U/KBs' NPL ratio stood at 3.65 percent while NPL coverage ratio is at 95.2 percent.
"As credit risks remain and recovery of the affected sectors may still be uneven, the BSP closely monitors the asset quality of banks, both at the system and at the individual bank level," he added. (PNA)