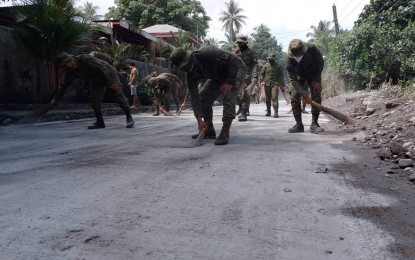 MANILA – The Philippine Army (PA) has deployed disaster response teams to help in clearing and relief efforts in Sorsogon areas heavily affected by Sunday's phreatic eruption of the Bulusan Volcano.
In a statement late Monday, Army spokesperson Col. Xerxes Trinidad said these teams are under Joint Task Force Bicolandia headquarters.
Meanwhile, Army units in the region like the 903rd Infantry Brigade, 22nd Infantry Battalion, and 31st Infantry Battalion remain on red alert status for possible humanitarian assistance and disaster response missions.
"(The) 31st Infantry Battalion deployed a company to secure Barangay Puting Sapa in Juban, Sorsogon, one of the villages that bore the brunt of the volcano's ashfall, while the 22nd Infantry Battalion is coordinating with local authorities for the implementation of the four-kilometer Permanent Danger Zone (PDZ) around the Bulusan Volcano. A platoon composed of 36 reservists meanwhile cleared ash-fall covered roads in Barangay Rangas in Juban town," Trinidad said.
Meanwhile, PA chief Lt. Gen. Romeo S. Brawner Jr. lauded Army humanitarian assistance and disaster response teams and reservists for their steadfast dedication to ensuring the safety of families in affected areas. (PNA)