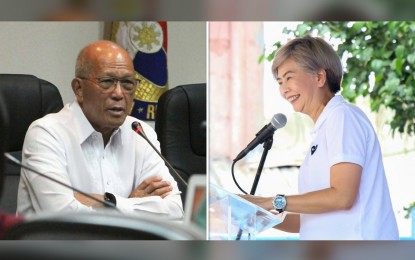 MANILA – Department of National Defense (DND) Secretary Delfin Lorenzana thanked Manila Mayor-elect Maria Sheilah "Honey" Lacuna-Pangan who caught him after he fainted during the 124th Independence Day flag-raising rites at the Rizal Park on Sunday.
"Do you believe in miracles? I do. Last Sunday, Mayor-elect Dra. Honey Lacuna of Manila saved me from a possible life-altering injury when I fainted due to the heat and exhaustion. Thank you again, Mayor Honey, for being at the right place, at the right time!" Lorenzana said in a Facebook post Tuesday.
In a separate post Monday afternoon, Lorenzana also thanked all the people who expressed their concerns and prayed for his well-being shortly after the incident.
Lorenzana earlier attributed his fainting to his lack of rest and sleep from his recent successive international security engagements, which include a speaking engagement at the International Institute for Strategic Studies Shangri-La Dialogue (IISS) in Singapore from June 10 to 11.
The DND chief spoke at the fourth plenary session of the defense summit on the topic "Military Modernization and New Defense Capabilities".
Lorenzana admitted that he arrived early Sunday morning in Manila to attend the Independence Day rites.
DND spokesperson Arsenio Andolong earlier said Lorenzana has also traveled recently to South Korea and other parts of the Philippines while overseeing the defense operations of the country and transition to a new administration.
He added that the DND chief's hectic schedule in the past weeks and the extremely hot weather in Luneta "may have resulted in his fatigue". (PNA)